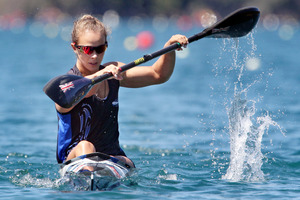 Champion paddler Lisa Carrington will contest two disciplines on this year's European campaign with the aim of a serious crack at double Olympic Games success in Rio in 2016.
Carrington won the inaugural K1 200m crown in London last year, having won the world title at Szeged, Hungary, the year before.
But challenges are what she craves, the placement of the two events on World Cup programmes means it is feasible and so Carrington is relishing the idea.
She believes the two distances complement each other and hopes to do both at all three World Cups on the European campaign, which will give her a good gauge on whether it is possible to do both full on.
"They have different strategies when you're racing but in training there is a lot of crossover," Carrington said yesterday.
"You need to be fit for the 500, but also the 200m and you need the speed over the first 50m for both.
"And it's nice to have another event to focus on, so I'm not solely going over and over on the 200m."
The 23-year-old kayaker from Ohope confirmed an attempt at the double in Rio is in her long-term plan.
"This year is all about experimenting and figuring out what we need to do to go for these events."
Carrington maintains she'll get the best indicator of whether contesting both disciplines is realistic by racing rather than piling up the training kilometres.
"It's finding that perfect race strategy but also you gain a lot of experience by racing and that will be the main contributor for me getting better.
"The more I race, the more I'll know what the feeling is like. Training's hard but you don't get those feelings. Racing is key for my progress."
Many athletes take things easy the year after an Olympics. But over the course of the three World Cups, Carrington expects to get a good reading of how she's travelling against world class opponents.
"I've never raced 500m before at World Cups, so it's cool and it's another challenge and for me challenge is important. If you don't have challenges you get stale."
In an increasingly busy life, Carrington managed some downtime since the Olympics. She returned to her roots, competing for Mt Maunganui at the national surf life saving championships in March.
"We go from having your own lane and everything being quite perfect, with no one disadvantaged then go to the surf where you don't know when your race is going to be called, and there's waves," she laughed.
"It is a really good challenge, takes the pressure off and reminds you that it's really fun to do that stuff."
She got "a couple of medals, nothing too amazing" and caught up with old mates, and "remembered what I used to do".
Now it's back to business.The New Zealand elite squad are off to Europe on May 4, with a youthful K4 1000m men's group, veteran former world champion and Olympic silver medallist Ben Fouhy is back after a fraught ending to his Olympic campaign in London - when he lambasted sports funding officials - and full steam ahead for a strong campaign in the K1 1000m.
A K2 500m women's crew will be finalised this weekend after trials for three kayakers, Jaimee Lovett, Teneale Hatton and Rachel Dodwell. Only two will travel.
New Zealand team
For European campaign
Lisa Carrington (Ohope, K1 200m and K1 500m)
Teneale Hatton (North Shore)/Rachel Dodwell (North Shore)/Jaimee Lovett (K2 500m) (two to be selected)
Ben Fouhy (K1 1000m)
Daryl Fitzgerald, Jarrod Fitzgerald, Jasper Bats (all Gisborne), Zac Quickenden (Christchurch) (K4 1000m)
Schedule
May 10-12: First World Cup, Szeged, Hungary
May 17-19: Second World Cup, Racice, Czech Republic
May 31-June 2: Third World Cup, Poznan, Poland
Aug 29-Sept 1: World Championships, Duisberg, Germany