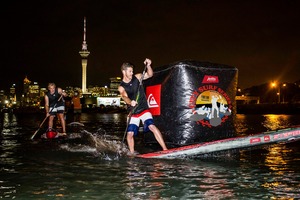 Auckland hosts the first floodlit, stand-up paddleboard (SUP) night event in St Marys Bay next weekend.
SUP has developed out of sight in the past year in Auckland with the inaugural year of the Jetts City Surf Series attracting more than 300 participants throughout the summer.
Troy Huston, a New Zealand SUP rep who qualified for the SUP World Championship last year, is keen to dispel the notion that SUP is just a summer sport.
They are doing that by creating an event with a point of difference.
"We have done plenty of research and we believe that this is a world first, the first ever floodlit, night SUP race," said the 35-year-old Huston. "With over 120 SUPers expected on the night it will also be the largest participated SUP event in New Zealand."
Over the summer 220 different people took part in the six different SUP categories during the 13-week City Surf Series.
Huston said the idea for a night event was inspired by the night surfing competitions that used to be staged in Raglan. "I remember seeing the images and write-ups of the floodlit surfing comp and thought it would be epic to do something similar with the sport of SUP in Auckland City."
Huston, who is the Quiksilver SUP Team Rider in NZ, is experienced in the sport with seven years on a SUP and he has attempted some crazy missions.
He was the first to paddle to Great Barrier Island (from Tawharanui), a journey of just under 50km, along with good mate Bevan Gooch, plus regular downwind paddles with the crew from Auckland across to Waiheke Island with the help of a howling sou'wester.
He has no doubt that the night race will be safe with the expertise of Surf Lifesaving Karioitahi assisting and the Eco Light LED towers being used for competitor buoy identification and rounding.
"St Marys Bay is the perfect location for this as it is a controlled environment and is protected by the elements as much as possible," said Huston.
There will also be free demos and lessons offered for newcomers to the sport from a wide range of SUP brands and stores between 4pm-6pm before the racing begins.
Any of the SUP competitors who finish in the top four places in their respective category will earn the right to sit back and relax in a portable spa to watch the following SUP categories compete.
"This event is designed for everyone to have a go, have a laugh and get involved in this probable world first. It will be an incredible night, with a huge social focus to further showcase this fanatic sport."
SUP night race
When: Saturday, April 27
Where: St Marys Bay, Auckland
Event options
The race will be a 1.3km loop course
Individual categories
Team categories
• SUP Social/ Novice - 1 lap Sunset event
• SUP surfboard
• SUP grommets - 3-lap night race
• SUP elite (either 12'6 or 14'0)
• SUP surfboard - 2-lap night race
(All 4x team members compete at the same time. It is not a relay)
• SUP Masters (50+) - 2-lap night race
• SUP 12'6 race - 3-lap night race
• SUP elite - 3-lap night race
For more information visit: www.citysurfseries.com