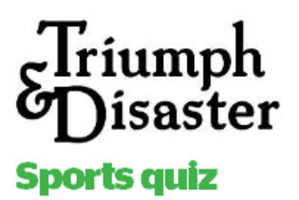 Welcome to the weekly sports quiz with a twist. Below are nine topical sports questions and a Triumph & Disaster dilemma you have to negotiate.
Nine correct answers and the best response to the dilemma win a prize from T&D's men's grooming catalogue.
1) Name the equine legend that hung up her horseshoes this week?
2) The Mystics sank to a loss aginst which fellow strugglers this week?
3) Three New Zealanders have won the Boston Marathon. Name two of them.
4) Which country is protesting its Davis Cup loss against New Zealand?
5) Name Ross Taylor's team in the IPL.
6) What is the Kiwis' win-loss record in Anzac league tests?
7) If you were at a Gold Coast Suns game, what sport would you be watching?
8) Manchester United have been passed by which soccer club as the world's most valuable?
9) Which team named after a mythical creature caused a huge upset in Auckland this week?
T&D dilemma
You're in Jo'burg, you're starving, and the only dish left on the menu is 'Suzie's prawn cocktail'. What do you do?
Email your answers to dan@triumphanddisaster.com.
He will notify the winner. The answers, and the best dilemma response, will be published next week.
Last week's answers
1. Whincup, Tander, Coulthard and Pukekohe 2. Michael Clarke 3. Two 4. Stormin' Norma Plummer 5. Kevin Barry 6. Real Madrid, Borussia Dortmund, Barcelona and Bayern Munich 7. Fullback 8. Roger Tuivasa-Sheck 9. Louisville.
T&D dilemma: Trevor Chappell bowls you an underarm, six runs needed to win the match. How do you play it?
Answer: "Block the ball with bat and spend the next 32 years moaning about it.'' - Duncan Pardon