Masters both stirring and snooze-worthy, while big bucks rumoured for gay US athlete.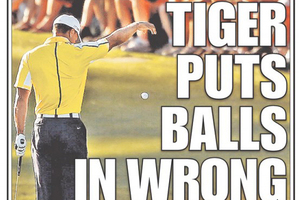 Tiger by the balls
Stay classy, New York Post.
Irony corner
Sports columnists who lament the country's interest in caddie Steve Williams ... in print. Is anything quite as boring as people writing about how boring something is? Sorry, that last sentence was, well, boring.
Jolly interesting, at least
On the contrary, Adam Scott's win in the Masters was awfully exciting, and the role of the man who carried his bag and whose name we dare not speak was at the very least interesting, even if a little overstated.
Freeview fizzler
Well, the launch yesterday of Sommet Sports, the Freeview sports channel that trumpeted unprecedented AFL coverage, turned out to be a bit of a damp squib, didn't it? So far information on the whereabouts of Sommet is thin on the ground.
Special dinner request
Willie Apiata was booked in for dinner with the Kiwis last night, where he was to present jerseys. He had one request, according to coach Stephen Kearney: "He's asked for some puha and pork bones for dinner so we are scrambling around Canberra trying to find it for him. We will have to keep some of the lads away from that."
In adoration
They're not new, but at times like these it is worth remembering why Willie Apiata is so awesome:
• Willie Apiata changed the periodic table, because Willie Apiata only recognises the element of surprise;
• Willie Apiata can win a game of Connect Four in only three moves;
• Willie Apiata does not wear a watch - he decides what time it is;
• Willie Apiata can count to infinity;
• Willie Apiata ordered a Big Mac at Burger King ... and got one.
Come out, come out whoever you are
Wednesday was a momentous day for New Zealand and the rights of gays and lesbians. The tide could be turning in the world of sports, too, according to a Huffington Post article that posits that the first openly gay athlete in one of the four major US sports could command a huge payday. There is no openly gay man playing in the NBA, MLB, NFL or NHL. Last week, the NHL announced a gay rights initiative and the NFL is meeting lesbian, gay, bisexual and transgender groups to open a dialogue. Just as intriguing are rumours that big corporates, notably Nike, are ready to embrace the first male to cross that threshold, and that embrace will be very, very lucrative.
Jagermeister brings coach down
A Croatian football legend has been sacked as coach for reportedly stealing one of his player's credit cards to purchase 36 bottles of Jagermeister, Eurosport reports. Josip Gapar played 420 times for the country's most popular club - Dinamo Zagreb - and was sacked over Easter from Preko - a team in Croatia's first division. It is alleged he stole a wallet from the dressing room. He is then is said to have spent $800 on Jagermeister.