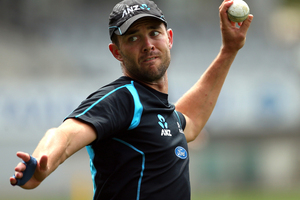 New Zealand players have been almost non-existent at the Indian Premier League.
Only two of the six players contracted to a franchise have had a game and one of those, veteran allrounder Jacob Oram, has made just one appearance for the Mumbai Indians, taking none for 22 in four overs against Royal Challengers Bangalore in the second game of the tournament on April 4.
There has been no game time for any of James Franklin, Dan Vettori, Nathan and Brendon McCullum.
The most significant of those is Brendon McCullum, who hasn't played since March 26, the last day of the thrilling final test against England at Eden Park, when he injured a hamstring.
Of the others, allrounder Vettori, needing game time at table-topping Bangalore, is twiddling his thumbs restricted to training as Sri Lankan legend Muttiah Muralitharan has first dibs on the spinning role; offspinner Nathan McCullum hasn't been required at the Sunrisers Hyderabad; while Franklin hasn't been sighted in the Mumbai side.
Batsman Ross Taylor has been active though, but not productive. Taylor has managed just 63 runs from five innings for Pune Warriors, at 12.6 and a modest strike rate of 82 before last night's game against Hyderabad.
He did, however, captain Pune in their 24-run win over defending champions Chennai Super Kings this week.
• New Zealand won't need to worry about flamboyant England batsman Kevin Pietersen in the upcoming two-tests against England. The knee injury he picked up in New Zealand last month needs further rest, ruling him out of the series.
"Injuries are a sportsman's worst nightmare!" the controversial batsman tweeted from Dubai where he is resting. "This one is hurting me the most."
The first test starts at Lord's on May 16.