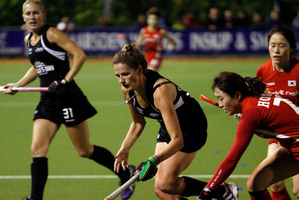 The Black Sticks have had a last minute comeback to claim a 2-2 draw against Argentina at the Four Nations Tournament in Hamilton tonight.
On a wintry night at the Gallagher Hockey Centre, the Black Sticks worked hard to turn a 2-0 deficit into a draw thanks to goals from Stacey Michelsen and a field goal in the 70th minute from Charlotte Harrison.
"It was a good comeback, our players have taken steps forward in that regard. They know how to work hard, hold on and not give up and that is really pleasing. Previously, we have been in that position and lost games, especially against Argentina, so it is good to fight back and take the draw,'' says head coach Mark Hager.
"But it was a scrappy performance, our basics were poor and I feel we were outplayed, we struggled to string passes together. Argentina played a better game tonight so it would be good to perform better against USA tomorrow,'' says Hager.
There was only one goal in the first half and it came from Argentina's Martina Cavallero early on. The Black Sticks had a number of chances throughout the half to equalise, including a couple of penalty corners but both were well defended by Argentina.
In the second half, Argentina's Carla Rebecchi made it 2-0 in the 41st minute and the Black Sticks really picked up the pace to try and make it count. One of their best opportunities was when Auckland's Julia King crossed to Charlotte Harrison in the circle who dived to deflect it in, but it went just wide.
The pressure eventually paid off when the Black Sticks were awarded a penalty corner and Whangarei's Stacey Michelsen deflected in a drag flick from captain Kayla Sharland.
With the clock counting down and the crowd desperate for a goal, it was Charlotte Harrison who found the back of the net right on the full time hooter to draw the game.
The Four Nations is made up of two back-to-back tournaments so that Hager can test playing combinations ahead of naming his side for the World League Semi-Final in Rotterdam in June.
In the earlier game, Korea beat USA 4-1 and have now won four of the five games they have played during the Four Nations Tournament.
Korea didn't hesitate to show their speed and skill and it was Hyo Ju An who was first to score in the 17th minute and then Mi Hyun Park scored in the 30th minute.
In the second half, Park collected her second and it was backed up seven minutes later when Young Sil Lee took it to 4-0. Playing her 200th test cap, captain Lauren Crandall was all smiles when she converted a penalty corner for her team in the 52nd minute.
Having won the first Four Nations in Whangarei, it was the Black Sticks first game of the second leg tonight. Tomorrow the Black Sticks will face USA at 7pm and Korea will take on Argentina at 5pm at Hamilton. All teams then travel to Tauranga on Friday for the final weekend of action. All games during the weekend will be streamed LIVE here on the Hockey New Zealand website.
RESULTS
Korea 4 (Hyo Ju An, Mi Hyun Park x2, Young Sil Lee) USA 1 (Lauren Crandall). HT: 2-0 to Korea
Argentina 2 (Martina Cavallero, Carla Rebecchi) New Zealand 2 (Stacey Michelsen, Charlotte Harrison). HT: 1-0 to Argentina.
- APNZ