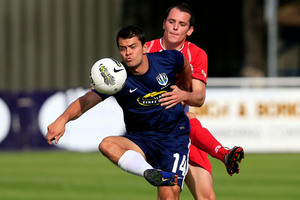 The prospect of another huge payday looms large for Auckland City and their supporters heading into today's fourth round OFC Champions League games.
City play Tahitian champions AS Dragon in the early game with Waitakere to face New Caledonian representatives AS Mont-Dore in the late game. In hosting the double-header, the Auckland clubs have foregone home advantage in agreeing to play both games at Trusts Stadium.
As clear group B leaders, Auckland City are well-placed to take the honours and head into the home-and-away semifinals as the warmest of favourites to book a fourth trip to Fifa's Club World Cup in Morocco, and with it a guaranteed US$500,000 ($1.18 million) pay-out.
Waitakere United, the only other club to have been on the big stage, got their Champions League campaign back on track with a keenly-contested 1-0 win over AS Dragon in Papeete on Saturday.
United now face the disappointing New Caledonian champions home and away in two of their remaining games and should edge ahead of Dragon who lead Paul Marshall's team on goal difference but face away and then home games with Auckland City.
Dragon will go into today's game with some confidence after holding Waitakere to a scoreless draw at Fred Taylor Park and then winning the francophone derby 4-1 away over Mont-Dore.
Auckland City coach Ramon Tribulietx is well aware of the threat posed by Dragon, which is essentially the Tahitian national side, preparing for this year's Confederations Cup in Brazil.
Losing captain Nicolas Vallar to suspension will not help the Tahitians, neither will the harsh reality that City go into today's game fresh from a record-breaking 12-2 romp against Mont-Dore last weekend.
"We need to get a result against Auckland but they are the favourites of this group and are very experienced," said Dragon coach Ludovic Graugnard. "They have won the Champions League before and participated in Fifa Club World Cups.
"But we will approach the match with confidence and a positive frame of mind."
In bouncing back from that first-up draw and then a 3-1 home loss to Auckland City to win in Tahiti, Waitakere go into today's game with some confidence, especially in the knowledge the top two teams in each group qualify for the semifinals.
Waitakere see this as a chance to rediscover the form that won them the ASB Premiership and at the same time score some goals, with just two to show in 270 minutes of Champions League football thus far.
United midfielder Chad Coombes misses the game through suspension.
"With four points, we're now right back in the race for the semifinals," said Waitakere coach Paul Marshall. "And since Dragon have to play Auckland twice while we play Mont-Dore two times, I'd say we have a slight advantage over Dragon. I'm looking forward to Auckland's match against Dragon because I think they are going to give Auckland some problems."
In today's group A action, Ba and Amicale, clear leaders and separated only on goal difference, have the chance to book their semifinals spots. Ba are at home to Solomon Warriors and Amicale have home advantage for their clash with Hekari United.
OFC Champions League
Auckland City v AS Dragon (Tahiti)
Trusts Stadium
Today 3pm
Referee: Gerald Oiaka (Solomon Islands)
Waitakere United v AS Mont-Dore (New Caledonia)
Trusts Stadium
Today 6pm
Referee: Kader Zitouni (Tahiti)