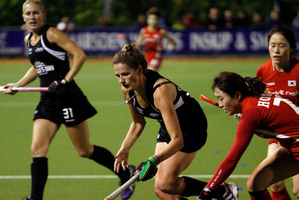 Whenever Katie Glynn needs a tip or two, New Zealand's alltime leading goalscorer doesn't have far to go.
The Auckland striker, with 60 goals from her 108 appearances for the Black Sticks, has the ear of national team coach Mark Hager and his assistant, Greg Nicol.
Hager is an alltime great of the game, and one of its finest goalscorers, while South African double Olympian Nicol bagged an impressive 244 goals in 200 appearances. Between them it's fair to say they know the tricks of the striker's trade.
Glynn, who made her debut in 2009, is one of the leadership quartet in the squad this week, with Anita Punt, Kayla Sharland and Stacey Michelsen, and all vastly experienced in terms of national appearances.
The world No 3 Black Sticks set out tonight to follow their victory in the opening Four Nations tournament at Whangarei last week.
The second round of the Four Nations begins against world No 2 Argentina tonight, with the No 10-ranked United States playing eighth-ranked Korea in the other game.
"Last year we won the first round but lost the second and a big focus is to back it up this time," Glynn said yesterday. "We have pretty high expectations of ourselves."
In Whangarei, after opening with a 4-3 loss to the eighth-ranked Koreans, New Zealand got better with each outing, culminating in a 3-0 dusting of the same opponents in the final.
There had been missed opportunities on their trip to Argentina in February, but Glynn feels improvements are being made. Not conceding a goal in the last two games in Whangarei was also satisfying. The 23-year-old had a dose of the flu shortly before last week's tournament and admitted her form was patchy. So she has a point to prove this week.
"Goalscoring is pretty important to me. It's my job on the field to put away those chances. I'm reasonably happy with my form but there's still a lot of areas I need to work on. I'm lucky I've got Mark and Greg so I can feed off them as much as I can."
Then there's the Hockey New Zealand database of every goal she has scored for the Black Sticks. "Athletes in any sport go through highs and lows and there's always ways to pull yourself out. It is cool to go back and see things you've done well in the past."
Argentina are expected to be formidable this week, with the world's seven-time player of the year, Luciana Aymar, in their squad and the group better attuned to New Zealand conditions.
New Zealand squad
Katie Glynn, Julia King (Auckland), Sam Charlton, Gemma Flynn, Rose Keddell, Sally Rutherford (Midlands), Charlotte Harrison, Stacey Michelsen (Northland), Michaela Curtis, Emily Naylor, Kayla Sharland (Central), Amelia Gibson, Bridget Blackwood, Pippa Hayward, Olivia Merry, Cassandra Reid (Canterbury), Anita Punt, Aniwaka Roberts (Capital).
Schedule
Today: Korea v US, 5pm; New Zealand v Argentina, 7pm, Gallagher Hockey Centre, Hamilton
Tomorrow: Argentina v Korea, 5pm; New Zealand v US, 7pm, Hamilton
Saturday: Argentina v US, 1pm; New Zealand v Korea, 3pm, Tauranga
Sunday: Playoffs, 1pm and 3.30pm, Tauranga