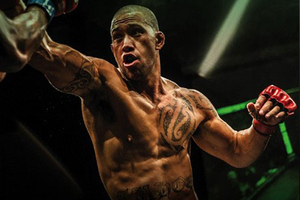 Could there be three New Zealanders on the UFC 160 card in Las Vegas, next month?
With Mark Hunt and James Te Huna confirmed to fight at the MMA event, fellow Kiwi Dylan Andrews has put his hand up to be involved in the show that will take place on May 25.
Andrews was a beaten semifinalist in the latest season of TV show The Ultimate Fighter and had his first UFC bout on the season finale's card in Las Vegas during the weekend.
The 33-year-old beat Jimmy Quinlan with a first round TKO on the season finale and took to Twitter shortly after to let UFC president Dana White know that another New Zealander should be on the card at the MGM Grand Garden Arena next month.
"Hey @danawhite I want UFC 160 with my brothers @JamesTeHuna @markhunt1974 Make it happen boss!," Andrews tweeted.
Hunt has a heavyweight bout with Junior Dos Santos lined up at UFC 160, while Te Huna will meet Brazilian Glover Teixeira in a light heavyweight contest.
New Zealand-born welterweight Robert Whittaker is also on the card but considers himself an Australian.
Andrews has a 16-4 career record in MMA according to website Sherdog.com and is based on the Gold Coast where he trains full-time.
He was the last fighter selected to join a team on The Ultimate Fighter 17 but impressed in the early stages before he was eventually beaten in the semis by Jamaican Uriah Hall who went on to finish second.
Andrews also won a US$25,000 (NZD$29,667) prize for being involved in the 'Fight of the Season' for his quarter-final triumph over Luke Barnatt.
In a post-fight interview following his victory over Quinlan, Andrews said he desperately wanted to be in the UFC.
"Ever since I got on The Ultimate Fighter, I didn't want to be a shadow in the series," Andrews said.
"I had to perform and I had to show people that I could fight. I really wanted to make the finale, but I was given another opportunity here and I wanted to show them I'm still hungry no matter what happens.
"There was a tremendous amount of pressure on me. This is where I want to be. I'm a fan of the UFC and I know what needs to be done. I know what Dana White and the UFC require, and that's good fights. Win or lose you know you're going to get a fight from me."'
Twelve fights have been announced for UFC 160 but given the nature of the sport, fighters can become injured at any time and have to withdraw at late notice, which could provide Andrews with an opportunity.
- APNZ