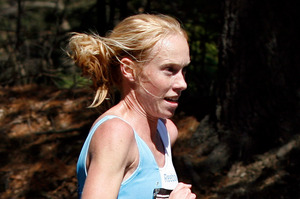 There was a dose of double delight for New Zealand athletes in Boston yesterday.
Papakura's Kim Smith won the Boston Athletic Association 5km race in dominant fashion. She crossed the line in 15min 16s, which gave her the early lead in the three-race Boston AA Medley series.
Calling the 5km her weakest distance in the series, the three-time Olympian said: "It's nice to have a win today. The longer it goes, the stronger I get."
The male and female winners of the BAA Distance Medley, based on fastest cumulative time over the three races, are awarded US$100,000 ($118,000). Trying to repeat last year's win, Ethiopia's Werknesh Kidane went out hard on the flat loop course, Smith and Lineth Chepkurui, of Kenya, gave chase.
"It went out pretty fast," said Molly Huddle, the American record-holder at 5000m and current US 5km road champion. "I know what fitness [Kim] is in, so I knew to stay a little bit back from her."
Smith soon pulled ahead, and stayed there, winning by 7s. Chepkurui finished second in 15min 23s and Huddle third in 15min 28s, with Kidane fading to fourth in 15min 32s.
It's a better Distance Medley start for Smith than last year, when she finished third in the 5km. After rebounding for a convincing win in the BAA 10km last June, the 31-year-old took a solid lead into October's BAA half marathon. As the owner of a 1h 7min 11s personal best in the half marathon - the fastest ever run on US soil - Smith went into that race a heavy favourite and came out with a win by nearly two minutes.
Smith's next race is a 10,000m track race in Stanford on April 28, where she will attempt to qualify for the Moscow world championships.
Nick Willis won the International Street Mile, another supporting race to the Boston Marathon.
Willis won the race easily in a new race record of 4min 3s from Britain's Ross Murray, who clocked 4min 8s, and Peter Van Der Westhuizen from South Africa a further 2s back.
Willis next races in a 1500m at the Drake Relays, also on April 28, in Des Moines, Iowa.