Keen debate likely to ensue over results of survey into racing juveniles at 1600m.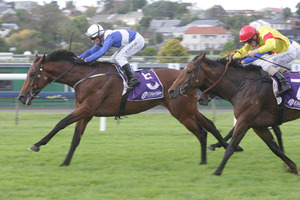 Racing 2-year-olds beyond 1200m used to be considered a danger to their long-term prospects.
Racing them at all at that age was not universally popular a few decades ago.
On Saturday at Ellerslie we had New Zealand's only 1600m juvenile event of the year, the Windsor Park Champagne Stakes, won stylishly by little-fancied but promising Fast Dragon.
In Sydney they had the 1400m Sires Produce and their 1600m Champagne Stakes is imminent.
In the face of popular belief, a recent survey pointed to 2-year-old racing having little or no effect on the longevity of a horse's career.
"The Golden Slipper is the most lucrative horse race for 2-year-old thoroughbreds in the world, despite ongoing criticism of horses being raced at this young age, including by an Australian Senate select committee on animal welfare," said the University of Sydney study.
The study found no detrimental effects if a horse starts racing as a 2-year-old, and also that those starting careers in Australia at younger ages are more likely to race for longer than late starters.
"This is the largest and most extensive study of its type as we investigated the careers of over 115,000 Australian thoroughbreds and evaluated them throughout a 10-year period," said Natasha Hamilton, the supervising author at the university's faculty of veterinary science.
The study used the horse's exact age at each race as defined by its foaling date, rather than simply by year of birth, making it more accurate than comparable studies.
Remarkably: "The survival analysis showed the risk of retirement from racing decreased the younger the horse was when it ran its first race."
That analysis will turn around a number of perceptions.
Certainly there have been Golden Slipper winners who have not raced on.
But it is their worth in the breeding sphere that has seen many of them quickly retired.
Fast Dragon, a magnificent, big Fastnet Rock type, looks set to do really good things for trainer Bruce Wallace and stable foreman Allan Peard.
There are so many things Jim Gibbs taught Lance Noble about training over any number of years, Noble couldn't remember half of them in the Ellerslie birdcage after Viadana's $200,000 Manco Easter Handicap on Saturday. But they were well stored and indexed in Noble's mind.
One of the most prominent of them was patience. It was the element that led to Vidana's victory on Saturday - just five starts for what was a difficult filly as a 3-year-old.
The $25,000 yearling purchase is now an extremely valuable commodity for a syndicate that knows how to celebrate at the highest level.
And that is a very strong form race.
Postmans Daughter ran home gamely up the straight but failed by a nose to bridge the gap, with Our Famous Eve finishing third. Favourite Zurella got well back and could not sustain a finishing run.