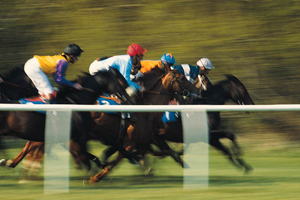 King Kenny's form is positively regal, and he gave stand-in driver Jonny Cox something to smile about too at Winton yesterday.
Cox was in the sulky for regular driver Dexter Dunn, who missed his flight from Christchurch, and had an armchair drive behind the 5-year-old son of Pegasus Spur as he bolted away to win by 6 lengths.
The winning margin was just half a length shorter than King Kenny's 7-length win at Forbury Park last month, and Cox did not even pull the earplugs yesterday.
It was a double bonanza for Cox as the feature trot was named after the Cox family, most notably Jonny's late grandfather, Harry, and Cox pointed to the stands as he crossed the line with King Kenny a speck on the horizon for most of his rivals.
Co-trainer Graeme Anderson, of Westwood Beach, said everything fell into place, even after Dunn could not make it on course in time to drive.
"It was meant to be, with Dexter missing the flight and Jonny winning his grandfather's race, and me leaving my colours behind, so he had to use his own colours," Anderson said.
"I tried to tell the stipes I was honouring the Cox family by using his colours, but I don't know if it worked or not." Unfortunately for Anderson, his light-hearted explanation did not succeed in avoiding a fine, and he was relieved of a $25 colour fee.
The $100,000 5-year-old trot on the second day of the Harness Jewels carnival in Ashburton is the mid-term aim for King Kenny - it's just a matter of which path he takes to arrive at the feature race in peak condition.
"He will probably go to Invercargill next week - which I guess is against our pattern of every second week - but it just seems a good option," he said.
"We'll then give him a week off then head to the big one [Harness Jewels], I guess."Otago Daily Times