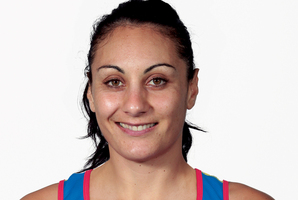 Joline Henry's return to the netball court came at just the right time for the Central Pulse as they beat the Southern Steel 59-56 in Palmerston North tonight.
The wing defence missed the first three weeks of the ANZ Championship as she recovered from the birth of her son in the off season and only played one quarter in the pre-season.
She is still working her way back to peak fitness but played the second half for the Pulse tonight and clearly had a key influence.
Down seven goals mid-way through the third period the Pulse rallied for a 13-5 run as they took hold of a lead they would never give up.
Henry, who played in Donna Wilkins's spare dress because she hadn't been home recently to grab hers, said Pulse coach Robyn Broughton told her today that she might be required to make her first appearance of the season.
"Robbie told me today that she might need me and as a player your job is to be there when your team needs you so I said that I will be as ready as I possibly could," Henry said.
The holes in her wardrobe extended to her shoes and she played in her runners rather than her netball kicks and she also took the court without her ankle braces.
"I didn't feel too lost to tell you the truth. I think that that's a testimony to the girls around me," Henry said.
"In saying that I'm old enough and ugly enough to know good structures and if you can set those up and the mind's fresh, or fit, as you would call it, then your body kind of does the rest."
The third-quarter swing came about due to a couple of big defensive plays from Pulse goal defence Te Huinga Reo Selby-Rickit, who had a busy night.
Broughton said the message was simple for her side during a time-out in the third quarter that proved the turning point as the Steel lost their momentum.
"They had to keep their composure," Broughton said. "Because when people are playing hard, restrictive D they get tired and that's what was happening to Steel and you could feel them dropping off a bit. So you just have to endure, just absorb it, keep your cool, your composure and then you've got to look after your own ball."
Pulse goal keep Katrina Grant was made to work to defend Steel shooter Jhaniele Fowler, who at 1.98m is the tallest player in the competition, but Grant made up for the 12 centimetre height difference with speed and guile.
The first half was a close run thing as the lead changed hands numerous times and the Steel went to the main break with a 32-30 lead that wasn't in many people's pre-match predictions.
As the third quarter got underway the Steel extended their advantage before Broughton delivered her advice in the game-changing time-out.
In the fourth quarter the Steel came back to trail by only two goals but Pulse shooters Caitlin Thwaites and Donna Wilkins made their shots and the home side held on for their second win of the season.
Next week they will meet the struggling Mystics in Auckland, while the Steel have the bye.
Central Pulse 59 (Caitlin Thwaites 33/37, Donna Wilkins 26/28)
Southern Steel 56 (Jhaniele Fowler 47/52, Jodi Brown 9/10) 1Q: 17-16, HT: 30-32, 3Q: 46-43.
- APNZ