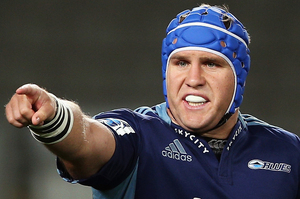 The tough part for the Blues is still in the distance, nine games on the trot including a trip to South Africa.
But they sit second in their Super 15 conference behind the Chiefs, with bye points to pick up this week.
The Blues' convincing 28-6 repeat win against the Hurricanes was a massive lift for the inexperienced group as they showed their coaches and themselves they had the character for this series.
No one doubted their skills. But questions hovered about their substance and whether they had the grit needed for both the immediate and long-haul projects.
Encouraging responses are increasing.
The Blues have match winners in Charles Piutau and Frank Halai who create magic, sensible generals such as Piri Weepu and Chris Noakes and rising forward thoroughbreds in Steven Luatua and Angus Ta'avao.
Around the gloss they need the workers, those who will toil and never stop. They are the players who fill in the background and are ultra-reliable. Most get rare mentions.
Such as hooker James Parsons, who had two starts and five games from the bench in last year's debut season as he sat in behind Keven Mealamu and Tom McCartney.
Parsons' leadership has been recognised as captain of North Harbour, where his attention to detail and work ethic are valued highly. Same with the Blues this year after Mealamu took leave and McCartney switched to propping fulltime.
Parsons has started six games in this tournament as the Blues have worked through their set piece difficulties. The staff value his persistence and ability.
That gelled on Saturday as the pack worked over the Hurricanes, while Parsons claimed his second try for the season with his energetic support play.
His first against the Waratahs was an eye-catching 35m sprint before he bounced several defenders; his latest effort a bustling carry and exuberant reaction.
At 26, Parsons has waited for his chance at this level. "I have to de-clutter my mind because I can overthink things at times."
Keeping it clean and direct have been some of the guiding principles for the Blues. Their weekend lineout work was an example of that better control, the scrum a result of hard work. Defence was another sign the Blues were on the job.
Hurricanes coach Mark Hammett accepted his side was outmuscled in this return clash, especially on defence. "We are a hard side to keep try-less and they did that well."