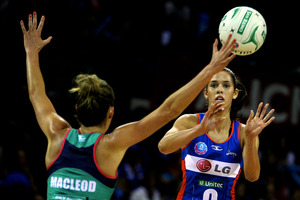 Mystics coach Ruth Aitken doesn't have much to smile about but insists her beleaguered team is making progress and a turnaround is "not far away".
The Auckland side is at its lowest ebb in years. The Mystics are bottom of the ANZ Championship after their worst start to a season since 2008. It's not just the three consecutive defeats, it's the nature of them, losing heavily to the Vixens by 14, the Fever by 27 and the Firebirds by 21.
"It has been challenging," Aitken told the Herald on Sunday. "It has taken longer to gel as a new group than we would have liked. We have made some progress and there has been no lack of application and desire, though obviously we have a lot to work on."
The absence of Anna Harrison and Charlotte Kight has been hard to cover but the Auckland side still has A-grade personnel like Maria Tutaia, Cathrine Latu, Kayla Cullen, Grace Rasmussen and Julie Corletto.
However, something is not working. There are issues across the court. It is more pronounced at the defensive end, where Jess Moulds and Corletto have struggled as a combination, not helped by the lack of protection in front of them which has contributed to the worst defensive record in the competition (more than 70 goals conceded per game).
The midcourt has not flowed, while Latu in particular has struggled to make herself available. The Mystics have the second-lowest scoring average in the competition.
"They've been a bit sloppy," says former Silver Ferns captain Bernice Mene. "There is not much cohesion there and a lack of discipline, both with and without possession. Essentially, they are losing the ball too easily throughout the court and not grabbing enough ball from the opposition. The defenders are struggling but they are also not getting enough help from the rest of team."
"They have been playing as individuals rather than as a group," says former Silver Ferns coach Yvonne Willering. "There has been a lot of unforced errors all across the court and there is no excuse for those. They seem to be making the same mistakes in every game."
Willering points out that the absence of Harrison has been keenly felt, given her ability to play all three defensive positions.
"If something is not working at the moment, they don't really have the ability to change it," says Willering. "They don't have those different combinations available to them."
Cullen, who made the ANZ Championship all-star team in 2011 and was the Young Player of the Year, has yet to find her feet at centre. An outstanding goal or wing defence, she has long been earmarked as a future midcourter but it feels like this season is too soon. Certainly the 21-year-old hasn't had the luxury of an occasional quarter here and there to find her feet; she has been thrust into the conductor's role from the opening whistle this year.
"She is more of a natural defender," says Mene, "but she will adapt. I remember when Laura Langman was first shifted from wing defence to centre. At first, her instincts were all defensive but look at her now."
"We would love to clone Kayla and use her all over the court," says Aitken. "She is a special talent. We believe centre is a great fit for her but it is early days and these things take time. I remember when we shifted Casey Kopua [nee Williams] into goal defence. People were saying, 'What are they doing - moving the best goal keep in the world? Then she became the best goal defender in the world."
Aitken identifies several key concerns ahead of tomorrow's match against the Tactix.
"Our error rate is far too high, so that needs to be addressed," she says. "We need to value our possession more, particularly pushing towards goal, and we have to grow our understanding across the court."
After being battered by three Australian sides in the first three weeks, they now have a run of six consecutive matches against New Zealand teams to rebuild confidence, belief and their league position, starting with the Tactix against whom they have not lost since 2009.