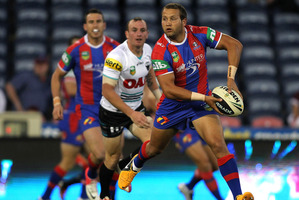 Knights 8
Panthers 6
It's common in rugby league to talk about a home ground being a fortess. Hunter Stadium has been more of a castle for the Knights.
Before the Panthers - beaten last weekend 30-0 by the rampant Cowboys - arrived, the Tigers, the Cowboys and the Raiders were all sent home to contemplate some heavy scorelines against them. In their three previous home games, the Knights had scored 104 points and conceded only 18.
The Panthers' defence had been woeful - the highest points conceded in the league, averaging five tries a game against them and at least six line breaks against them per game. They missed 38 tackles against the Cowboys last week.
So it seemed predictable when Knights winger James McManus waltzed up the middle from an early defensive scrum, ghosted past lame tackles by Sika Manu and Nigel Plum and ran 90m, outpacing Wes Naiqama.
A pass was then spilled by Plum during a peach of an opportunity for the Panthers and big prop Tim Grant had a try ruled out when he was propelled over the line, rugby union-style, by team-mates.
It was a scrappy first half and the Knights didn't look much chop either, their 8-0 lead courtesy of a second Kurt Gidley goal.
Too often the mistake intervened; the Knights looking as though they knew they were playing a team that probably wouldn't extend them overmuch.
Encouraged by the Knights in rusty armour, Penrith gained some momentum, forcing the home side into four goalmouth dropouts - without ever really giving the impression they would take the game away.
Halfback Luke Walsh was their most dangerous player and, if one kick to himself had not bounced awkwardly, the tale of the night could have been different.
But luck doesn't come easily when you are having as bleak a time of it as the Panthers currently are. At least they defended stoutly, forcing some of the Newcastle errors and making sure the most potent attacking weapon on the field, Knights winger Akila Uate, had a largely quiet night, apart from running back high kicks strongly.
There was a sombre touch, too, after an hour when former Warriors' under-20 player Matt Robinson was stretchered off after a heavy tackle in his first NRL outing this season. Kiwis forward Jeremy Smith went on report for that tackle.
It looked even worse for Penrith when winger Josh Mansour tweaked an ankle and was reduced to a walk, effectively meaning they were down to 12 men.
It all looked ominous - until Walsh put up a steepling kick off the last tackle. Knights fullback Darius Boyd got his radar all confused as the ball floated close to the posts and Manu was there to scoop up the dropped ball and score.
At 8-6 and all to play for, it should have been a thriller.
But it wasn't - and, while no one believes the Panthers will be in the finals this year, the Knights are riding high on the table. On this form, they shouldn't be.
Knights 8 (J. McManus try, K. Gidley 2 goals), Panthers 6 (S. Manu try; L. Walsh goal). Halftime: 8-0.