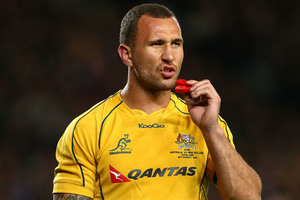 I can see some sort of logic in Robbie Deans' decision to leave Quade Cooper out of his 30-man preliminary squad to face the Lions.
We all know Cooper in his best form can be a dangerous attacking player and his combination with Will Genia is beginning to flower for the Reds. The former Wallaby fullback and TV commentator Greg Martin had a big dummy spit about Cooper's non-selection, saying he was getting closer to believing that Deans was a "Trojan horse" in some sort of Kiwi conspiracy to "sabotage" Australian rugby.
When I finished laughing, I reflected that Robbie is probably in the midst of a real coach's dilemma or is being a bit cleverer than most give him credit for. I remember Robbie when he was managing the Crusaders, before he started coaching, and his mantra then was "good people make good teams".
Cooper was left out of Deans' calculations before, after he'd gone public saying that the environment in the Wallaby team was toxic. So the dilemma for any coach, when confronted with a player of talent but dubious character, is whether you get rid of him so he can go and be toxic somewhere else - or whether you bring him in, manage him and get the best out of him.
It looks as though Robbie probably thinks Cooper has had a fair go and that he's washed his hands of him.
But I'd suggest we might yet see Cooper in the Wallaby jersey.
We don't know what has passed between Robbie and Cooper and what Robbie has asked him to do. Leaving Cooper out of the squad could also be a wake-up call, designed to get him fizzing, ready to come back and behave.
There are other factors - his combination with Genia is a real asset. If you don't play Cooper, you are left with either Berrick Barnes, Kurtley Beale or James O'Connor. I'd say that the injury-prone Barnes would not finish a three-test series. Beale is off the scene dealing with his alcohol demons and we don't know when or if he will be back - and he is probably better value at fullback anyway. That leaves O'Connor, who has also had discipline problems, and who is talented and can play 10 but might be more use to them further out.
Australia does not have a lot of depth at 10. You'd have to say too that O'Connor and Beale and Cooper - don't they call them 'The Three Amigos'? - are all a bit like the overripe apple in the bowl, sending all the other apples rotten as well. So Robbie's obviously got problems with this lot and needs to keep them under control.
For some reason, the All Blacks don't seem to attract this type of character. Justin Marshall was a bit wild when he emerged out of Mataura - but it was good wild ... The player Cooper most reminds me of is Carlos Spencer - and I don't think Cooper is anywhere near his level yet. He was a bit of a genius, Spencer, and like Cooper not all his genius plays came off. But you can build a team round players like that and gear a side to support them so their spectacular moves are turned into points.
That's why I have a sneaking feeling we haven't seen the last of Cooper yet and that's also why the likes of Genia and Reds captain James Horwill are supporting him.
And now that people like Martin have gobbed off, Robbie can ship Cooper back into the team and, if he craps out, Robbie can still say, "I told you so ...".