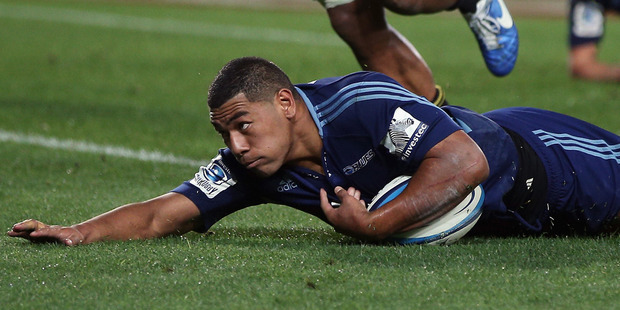 Blues 28 Hurricanes 6
Mission improbable was beating the Hurricanes once. Mission impossible was doing it twice and what's the betting if the Blues were to get a third go at the Hurricanes, they would nail the hat-trick.
The Blues had it all over them. There wasn't an area of the field where they weren't on top, or at least holding their own.
Their creaky scrum, exposed as fragile against the Highlanders, pieced itself together and came out with a points victory. The two as piring blindsides ran a thousand miles, carried, harried and splatted a few things, but it was Steven Luatua not Brad Shields that looked more like the All Black in waiting.
Piri Weepu showed TJ Perenara that there is life yet in the old dog.
Quite a bit so it seems. Fat Piri. Slow Piri. Unhappy Piri. He's gone. Long gone and the All Black veteran hasn't played this well - not consistently anyway for donkeys' years.
Clearly taken with the idea of showing his old franchise what they are missing, Weepu nudged and probed, bounced people off, skipped and danced and threw huge passes that went to all the right places. It was a performance that said, finally, he's at home in Auckland. The Blues are his team - they own his contract and his heart now.
Francis Saili and Charles Piutau were the more dynamic centre- fullback combination - offering more movement, variation and potency than their All Blacks opponents, Conrad Smith and Beauden Barrett and even the battle of the macro wings ended in favour of the Blues.
The rampant Julian Savea couldn't escape from Frank Halai.
The latter, rejected for years on end on account of his supposedly suspect defence, nailed the door shut. Savea, not for want of trying, couldn't get away and it takes an almost heroic effort from any wing in world rugby to ensure that is the case.
It was especially impressive from Halai, who despite being in his mid- 20s, has barely played 20 first-class games in his career. It's hard to believe. He admitted to having been nervous in the first outing against the Hurricanes - nervous about making his debut and facing the ferocious talent of Savea. There was no sign of any that trepidation last night.
There was more to his evening that just defence. The power runningthat has been evident all season, was there again.
It was Halai who scorched in for the opening try and Halai who blasted valuable metres from deep when the Blues needed a runner to thump into the traffic.
In many respects Halai epitomised what the Blues' performance was all about; it was based on hard work, discipline, attention to detail and a passion for the jersey. There was no obvious big victory in any one area - just lots of slight wins in many facets and the intangible in all that was commitment. The Hurricanes gave it plenty, no doubt about that, but the Blues seemed to have the edge in urgency and intensity.
Of all the differences between the Blues now and this time last year - their appetite for playing and giving of themselves is the biggest. The way they defended their line in the last 10 minutes when the game was safely in the bag screamed of a team that wanted to feel proud when they walked off.
Defence can only be that effective when everyone believes in the cause, when everyone is certain they don't want to be seeing a video they don't like on Monday morning.
The Hurricanes didn't give the impression such things mattered so much to them. They were strangely happy to indulge in unnecessary niggle. Ben Franks clobbered Luke Braid with a careless forearm in the first minute and then had a late swipe at Jackson Willison.
Jason Eaton lamely threw an arm at Rene Ranger when the Blues wing didn't have the ball and just on the stroke of half- time Shields entangled himself with Ali Willliams.
None if it got near the intimi dation category - it was, if anything, mildly annoying and rather costly for the Hurricanes.
More significantly, it alluded to a side that was no entirely focused on getting the job done and a side that will be glad, that unless they meet again in the play-offs, they won't have to play the Blues again.
Blues 28 (F. Halai, C. Piutau, J. Parsons. T. McCartney tries; C. Noakes 4 cons), Hurricanes 6 (B. Barrett pens; T. Pisi DG). Halftime: 14-6.