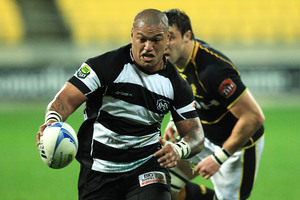 Let's say you could time-travel an All Black from the 1970s or 1980s into 2013 and drop him into a cafe where he could read the newspaper piece about Hika Elliot being dumped by Hawke's Bay.
He'd have to pick up a newspaper because, if he was from that era, he'd probably think an iPad was for filleting your fish, plastic side uppermost. Whatever the vehicle, he'd be astonished at the Elliot story.
An All Black being dropped by their province, even in the era of Super Rugby, is a bit like selling your mum into prostitution. It just doesn't happen and, if it did, it shouldn't. It's against the established order of things. But be prepared for more of this. Elliot is not likely to be the Lone Ranger.
Hawke's Bay CEO Mike Bishop, a straight shooter who has seen many players come and go as provincial rugby has moved through its various reincarnations, says he knows of other unions planning the same thing. He's probably right.
Look at the factors behind this. The big one is money. There simply isn't enough of it in New Zealand rugby. So more players are emerging from negotiations with the NZRU, waving contracts with sabbatical clauses in them - in Elliot's case, allowing him to take one in Japan.
Okay, Richie McCaw, Dan Carter. Sabbaticals? Understandable. Conrad Smith. Yup. Even Ma'a Nonu, though his time in Japan doesn't appear to have done him much good, as his form has spiralled down from there.
Hika Elliot? With all due respect to the man, a fine player, he is the fourth-choice All Black hooker. There's not enough money to throw at all those the NZRU wants to keep in the country. So they are rewriting contracts with a sabbatical clause so various players can head off to the likes of Japan to earn top dollar there. Sabbatical? Busman's holiday, more like.
It's the big problem with New Zealand's otherwise sound central contracts system, where top players are bound to the NZRU.
The player with the sabbatical heads back to his provincial union - who have to agree with the terms of his contract, even though it might not suit them.
The other factor is the change in the season schedule. Bishop says Super Rugby players previously had four to five weeks to recuperate between Super Rugby and the ITM Cup. As of last year, it's down to a week. Super Rugby players appear back at their provinces, often battered, bruised, fatigued and in no mental shape for a fresh competition - particularly one not regarded as important as the one they've just completed.
There's also the element of the individual. More than one rugby source mentioned to this column that Elliot can be a difficult character, with some off-field issues. Hawke's Bay also have other All Blacks to look after: Israel Dagg and Ben Franks.
Manawatu happily employ their two Aarons (Cruden and Smith) because of their appeal in showing how Manawatu can be a pathway to a black jersey. In general, players do not just have playing obligations. There are sponsors to be attended to and, even more importantly, grassroots rugby assignments to help encourage the next generation to keep the river of talent flowing. Most do but not all players from the top tier attend to their obligations to union and club.
Add all that up and it comes down to the commitment given by the province versus the availability of the player. Chuck in a sabbatical, the need for R&R and maybe some individual issues and you can see it from the employers' point of view - what are they getting for their money? Okay, the NZRU might compensate them $35,000 of the $60,000 All Blacks are paid for playing ITM Cup - but they are still out 25 large for a player they rarely see.
You can see it from the NZRU's point of view, too. They have to safeguard their investments. You can also see it from the players' perspective. Elliot has played 83 times for Hawke's Bay. He now has to find a new province or he's out a decent amount of money. Small wonder among those speaking up are Piri Weepu ("Boys will start looking out for themselves soon if that's the case") and Ali Williams ("We've got to find a solution where both New Zealand and Hawke's Bay rugby are happy and we get to retain quality players like Hika, because the last thing we want is for players like that to go overseas").
The only real solution is more money - and the NZRU have been doing a fine job of gathering what they can, it must be said. If more money doesn't eventuate, there could well be more All Blacks either out of contract with their provinces or on restricted contracts only.
Sounds an easy solution - we see so little of the All Blacks already in the ITM Cup that it doesn't matter, right? Well, no. Losing All Blacks from provincial contracts is like taking a big sign to training, with a big arrow pointing north with the words: "Sod off to Japan. Sayonara". The drain to Japan has now been identified as a cause for concern.
The long-term worry expressed by the provinces is that the loss of All Blacks from the ITM Cup helps widen the gap between third-tier players and All Black-dom. Hawke's Bay, a proven nursery of talent, are fond of using the Brodie Retallick example. A Hawke's Bay ITM Cup player, he was channelled through there to the Chiefs and All Blacks (13 tests), where he looks like becoming a senior pro for the 2015 World Cup.
Best to let Mike Bishop say it: "The ITM Cup is our point of difference. That's where our development comes from. Look at Australia - they are desperate for a third-tier competition like we have to compete effectively with New Zealand. But if we water down the ITM Cup further, our fear is that the gap will become too wide [from ITM Cup to the All Blacks] and we will become another Australia."