All Black coach says skipper will be in good shape for return in August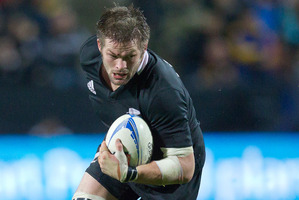 Captain Richie McCaw will miss the entire Super 15 series and tune up for his All Black return on a diet of club rugby.
McCaw will turn out at his Christchurch club before he reclaims his international jersey for the August 17 start of the Rugby Championship against the Wallabies in Sydney.
That will end a 290-day test rugby hiatus for McCaw since he captained the All Blacks to their vexing 38-21 loss to England and then went on leave.
A place was left open for McCaw to return to the Crusaders for their last three Super 15 pool games and possible playoffs after the June international break.
However McCaw has told the franchise he would be uncomfortable reclaiming his openside place at the expense of Matt Todd, George Whitelock or Shayne Christie who have played throughout the campaign.
"He won't be there even if someone falls over," All Black coach Steve Hansen said.
"That means there is no pressure on him to get back into training now.
"I want him to stay away. He will be in good shape when he gets back, there is no way he would let himself go.
"This is all about him getting a huge mental rest and being excited and ready when he wants to return."
McCaw triggered a sabbatical clause in his contract after his 116th test cap on last year's All Black tour to Europe with the aim of going to the next World Cup in Europe in 2015.
Settling on a caretaker All Black captain for the three June tests against France and the makeup of a wider training group are the next tasks for the national selectors.
Senior leaders litter the Super 15 series with Andrew Hore, Kieran Read, Daniel Carter, Conrad Smith, Liam Messam, Ali Williams and Keven Mealamu all filling that category.
Mealamu, Hore and Read have captained the All Blacks in McCaw's absence and providing Read recovers from his toe injury, he looms as the logical successor.
Not that Hansen would be drawn on the decision.
"The question we have to ask ourself is do we go for someone who will definitely be there for the World Cup or someone who logic says may be a 50-50 chance to be there."
A more immediate task is to pick a group of about 35-40 players for camps at Mt Maunganui on successive weekends in late May.
"We will be looking at players getting clarity about their work and getting to see some players we are not very familiar with," said Hansen.
"We may leave out some senior players we know about or who need time at home.
"The camp will help some of the newer ones get rid of the stars in their eyes look and give us an insight into their makeup."
It would be a great chance to work with some All Blacks who were out of form.
"We need to get them up to speed and find out why they are out of form," said Hansen.
"We need to know can we fix it or is their race run? Is their international time done or do we work hard to sort them out?"
Halfback Aaron Smith was an example of someone not playing to the standards shown in his debut year. He looked as though he was trying too hard and had gone away from the habits and strengths which made him so good in 2012.
"He is battling some adversity but that is not a bad thing."
A contrast was Piri Weepu who was playing as well as Hansen had seen.
"The biggest thing used to be his condition but he is 94kg now, enjoying his game and producing under pressure."