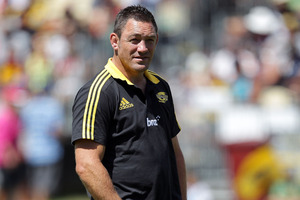 You probably haven't noticed but the Hurricanes have won their past four games.
While everyone stresses about the over-the-hill Highlanders, the injury woes at the Crusaders, marvels at the consistency of the Chiefs or have been mesmerised by the Prince of Positivity, John Kirwan, the Hurricanes have loped their way into fifth place on the Super Rugby standings.
Yes, their defence has been leaky and the bounce of the ball certainly went in their direction as they dispatched the Waratahs last weekend, but it's hard to deny Mark Hammett's side is a genuine threat in this year's competition.
They've got arguably the world's best wing in Julian Savea, the premier centre in Conrad Smith, a livewire halfback by the name of TJ Perenara, an All Black first-five, who can also play at fullback, a dynamic loose trio and a veteran second-row.
But Hammett refuses to let his men get ahead of themselves.
After last weekend's game he said his team weren't the sort of side who could afford to gloat about a four-game winning run.
"We can take confidence out of it, but I think we are a team that sometimes, if you get too excited and too ahead of yourself, then your performance and the micro detail in your performance can drop by three or four per cent.
"Now for us, as a team, if we drop three or four per cent that's the difference of winning and losing."
If the Hurricanes can topple Kirwan's Blues at Eden Park tonight that would make it five in a row and with their next two games at home against the Western Force and the Stormers, it's not inconceivable that the Hurricanes could end up on a seven-match winning run ahead of their trip to South Africa.
"You've got to be really cautious around reading good media as you've got to be cautious around reading bad media," Hammett said. "You just need to be really focused on our vision and our goals and what we do each week and that's what we do and control that part of it. We are still human, we look at the boards, we look to see where we are going and how teams are tracking and that's natural when you're in a competition where you want to win. But ultimately what two teams do on a Saturday doesn't affect the game we have on a Saturday."