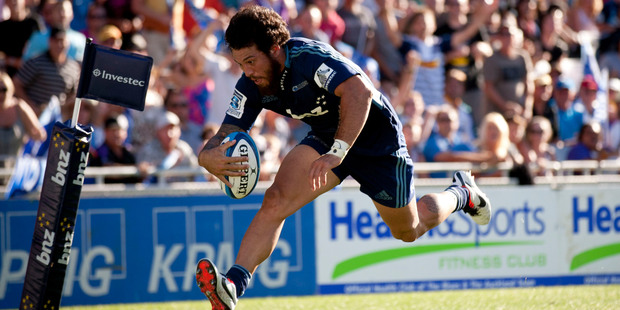 Slap a black jersey on Rene Ranger with the No 12 on the back.
His robust skills and growing influence in the game suggest he could be the answer to the All Blacks' search for midfield talent.
Blues coach John Kirwan has picked Ranger on the wing for tonight's match with the Hurricanes at Eden Park.
The rationale was that Ranger was away from training for most of the week because of the birth of his daughter while the Blues needed cover in that position because of George Moala's ban.
All that makes sense as Kirwan suggested that shift would also give Ranger more appeal when the All Black selectors sat down for their meetings.
With Cory Jane injured, Zac Guildford below his best, Richard Kahui leaving and Conrad Smith talking sabbaticals, Ranger must become more valuable as an alternative wing or centre selection.
Perhaps we also forget that Ranger made his only test start on the left wing against the Springboks in 2010 with his other appearances from the bench.
The All Black selectors can juggle Julian Savea, Hosea Gear or Ben Smith on the wing and might be tempted by Tim Nanai-Williams or Frank Halai.
So instead of thinking width for Ranger, imagine him in closer, in the rugged international combat zone at second five eighths.
Like the incumbent Ma'a Nonu, Ranger can have issues holding the ball in contact but that is usually because he is looking to offload. He could easily tighten that part of his game.
His approach is very physical, he has a step, a fend and hips which shrug off less than diligent defenders.
Ranger would have no problems carting the ball up, making breaks inside or outside tacklers and would become a strong decoy.
His defence is heavyweight and over the ball he has been one of the standout backs in the Super 15 with his ability to latch on to breakdown possession and win turnovers or penalties.
The All Blacks used Tamati Ellison at second five-eighths against Scotland on last year's tour to Europe and the year before Sonny Bill Williams had a real run at the position.
While Nonu has been a rock in his test duties and was so dependable in the World Cup campaign, Williams brought a new dimension with his offloads and angles and Ranger suggests he could do a similar job.
This season, Nonu's form has wavered in the Super 15. That is not new for him or some of his other test colleagues. The All Black selectors know what Nonu gives them and how to fire his instincts.
But there will come a time when the response is not so compelling. Nonu is coming up 31, going through another awkward Super rugby campaign while Ranger is 26 and has rediscovered his venom.
If he stays healthy he should be picked and considered for new duties.