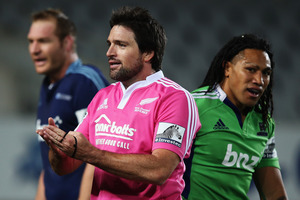 Controversial referee Steve Walsh has been ticked off after he broke the new television match official protocol several times in last weekend's game at Eden Park between the Blues and Highlanders.
His performance was marked down by Sanzar referees' boss Lyndon Bray because Walsh asked TMO Ben Skeen to rule on potential tries on the basis of player complaints - in particular those of the Highlanders.
The match, won by the Blues 29-18, ran over time by more than 10 minutes after Walsh referred almost every try to Skeen, although the over-run was inflated by the head injury to Buxton Popoali'i. No tries were disallowed.
Under the new increases in TMO powers, part of a global trial by the International Rugby Board, only a referee, assistant referee or TMO can request the build-up to a potential try be looked at in case of a "clear and obvious" impediment. Players are not allowed to ask for referrals.
"From my perspective with my review of Steve ... there were a couple of occasions where he voiced an opinion that he go upstairs to check because of a complaint from a Highlanders player and that's really not what we're looking for," Bray said. "If he had doubt anyway, that's what he needs to say, not reflect the player complaint."
Bray this week sent an email to his referees to remind them of the correct TMO process.
"From a human nature point of view, it's inevitable that we will have players questioning from time to time. We are very lucky in our sport that it's pretty low key and it lacks the emotion of other sports ... but they are going to do it. It's up to the referee to decide whether the evidence that he's seen on his way through supports the fact that there's doubt.
"What he shouldn't do is then announce to the world that we are going upstairs on the basis of a complaint because that would be wrong.
"I don't have any issue with why [Walsh] used the TMO, but I do have an issue with the terminology that he expressed verbally because it makes us all feel like the players dictated that he went upstairs and that's not right.
"We're dealing with something that's very new, but again, that's not an excuse." Bray said Walsh, who will officiate at another high-profile match this afternoon between the Chiefs and Reds, had a good game otherwise.
"The only thing that clouds peoples' views is that we had a lot of referrals and it looked like different things were happening ... his actual general performance was very good."
However, Walsh warned Highlanders captain Andrew Hore he would be sent off if the hooker carried on disrespecting him and the referee failed to grasp the gravity of the shoulder charge by Ma'a Nonu on the Blues' Piri Weepu despite being only metres away. Walsh showed Nonu a yellow card after watching the replay.
This season Walsh has been criticised for pushing Hurricanes captain Conrad Smith in a match in Brisbane and England took issue with his performance in their Six Nations loss to Wales. Sanzar chief executive Greg Peters said public feedback on the TMO trials had been positive but a "bedding in" process was to be expected.
A final decision on whether the TMO retains the increased powers will be made by the IRB in May 2014.APNZ