Now they're finally driving for the same team, there's no more family secrets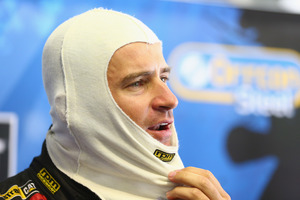 Alex and Will Davison have spent their lives involved in motorsport but only now can they discuss the topic without refrain.
The brothers, who will race for Ford Performance Racing in this weekend's ITM 400 Auckland, are exhibits A and B in the idea that driving is in the blood.
Not only was their grandfather driving royalty in Australia, but Lex Davison's eight children were all involved in motorsport. Richard Davison, Alex and Will's father, was an Australia Formula 2 champion and, growing up, days at the track were as common as family dinners.
Until this year, though, the Davison brothers were guarded when conversation at the dinner table inevitably turned to the sport.
Three years apart in age, the brothers never raced against each other in their formative years and, once they made a living behind the wheel, their careers took divergent paths.
Because of that, Alex and Will had to bite their tongues when their favourite subject was broached, with trade secrets as securely protected as Fort Knox.
But as teammates for the first time in their lives, the Davisons can reveal all - technical aspects of the car, in-car vision and innumerable data accrued from hours of practice. Nothing is off limits, and Will Davison couldn't be happier.
"It's better we're in the same team now because we can share information instead of trying to hide information if he's at a rival team," the younger sibling said.
"Now we're in all the same meetings and briefings together and we can talk about it very openly and help each other where we can."
Lex Davison, whose life was cut short after crashing at Sandown in 1965, would be happy to hear that. The four-time Australian Grand Prix winner left a lasting legacy in the sport, something to which a trip to a certain Tasmanian pub will easily attest.
The Lex Davison Bar sits on the inside of a 90-degree right-hander on the Longford circuit. It may not sound the safest place to bend the elbow and, as Lex found during a race in 1962, it was equally hazardous for the drivers.
"Lex had a massive accident over the crest before the pub, and his car rolled into the side it," Will Davison said. "He was very lucky to survive, but he walked out and straight into the pub and ordered himself a whiskey."
With their family history, it's of little surprise the Davisons entered the sport. The brothers agree they were born to drive but Alex said another vocation wasn't impossible.
"It wasn't something we were pushed into but, from an early age, it's all I ever wanted to do and all I ever thought about."
It still occupies much of both brothers' thoughts. Alex said the Davison clan tried to discuss other matters at family get-togethers, but that's easier said than done.
"When I'm not working - for lack of a better description - I try to get away from it a little bit, the same as anybody with their job.
"But, inevitably, we end up talking about motorsport."
The brothers will spend this weekend talking about a circuit they both admire, even if Pukekohe was the scene of what Alex called his worst accident while racing in the Carrera Cup last year.
"I'm absolutely looking forward to heading back," he said. "The accident plays no part - it wasn't a big deal. It's great that V8 Supercars are going back to Pukekohe. It's just a really iconic track."
Much like the Davison family.
- APNZ