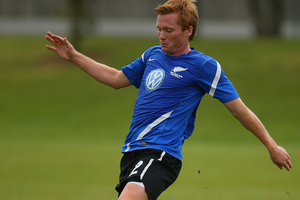 With a population of just over 20,000 people, Swedish town Falkenberg doesn't seem like a glamorous location for a young footballer to make a name for himself.
Its local team, Falkenbergs FF have played in the second tier of Swedish football since 2003 and conduct their home games at a stadium with a maximum capacity of up to 6000 people - although varying websites suggested the capacity was 4000, 4500, 5288 or 6000.
All Whites midfielder Dan Keat is the only non-Swedish player on Falkenberg's roster.
The 25-year-old linked with the side last week and made his debut in a 2-0 win over Orgryte on Wednesday (NZT) as the `Superettan' - the Swedish second division - got underway and will run through to October.
Having spent the past two years at the LA Galaxy - his locker was next to David Beckham's - Keat only managed to make a handful of meaningful appearances for the American glamour club.
His decision to take up a deal in Sweden is as much about convenience as it is about just finding his name regularly in a side's starting XI.
"Sweden has good professional leagues and is well scouted by bigger clubs in Europe,'' he told APNZ via email.
"I guess the main reason why this worked, rather than say the UK, was timing; the season is about to start here. To sign in the UK right now with one-two months left in the season then to have to go through an off-season before getting going again is anti what I need right now, which is a consistent run of regular football. The standard of football is good here and every game we play is viewable on the internet or TV so I am able to put myself in the shop window a lot better than travelling around being on trial.''
In November the All Whites will meet the fourth-placed team from North and Central America for a home-and-away intercontinental playoff in a bid to book a ticket to next year's World Cup in Brazil.
Since Tim Brown's international departure, the centre of the midfield has been a slight cause for concern for All Whites coach Ricki Herbert.
Whether Herbert wants to admit it or not, the Chris Killen experiment hasn't worked and depending on what formation he wants to use, Ivan Vicelich and Michael McGlinchey seem the obvious choices but he shouldn't forget about Keat.
The former Dartmouth College stand-out started New Zealand's final World Cup qualifier as they beat the Solomon Islands 2-0 in the dead rubber contest in Honiara last month and would love to add to his five international caps.
Keat, a former New Zealand under-20 skipper, said he had no concerns about falling off Herbert's radar despite playing so far away in a country's second-tier.
"Ricki knows that I need to get out and play regular football. I am better off playing games regularly than for instance sitting on the bench in LA. This is not only a good move for me personally - to put myself in the shop window while playing regularly - but also, I hope, for NZ going forward,'' Keat said.
Considering Keat played his junior football for Lower Hutt club Stokes Valley and played at senior level for Wellington side Western Suburbs, it seems surprising he hasn't heard from the Wellington Phoenix who are in dire need of a couple of midfielders.
The former Hutt International Boys School student said he wouldn't rule out returning home in the future.
"Obviously when I grew up there was no professional football in Wellington, so the idea of being able to play in front of friends and family week in and week out is very appealing to any player,'' Keat said.
"Whether it will happen or not I am not sure, for now I am contracted through October-November at Falkenberg so that is all I am focussed on.''
- APNZ