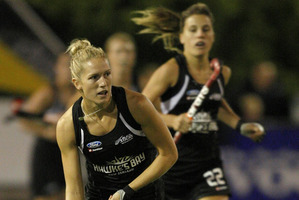 The Black Sticks have tonight beaten Olympic silver medallists Argentina 2-1 in their second game of the Four Nations tournament at the ITM Hockey Centre in Whangarei.
It was a much better performance from the Black Sticks, who played with confidence and created many opportunities. Charlotte Harrison and Katie Glynn scored the hosts' goals.
The first goals of the match came in the second quarter when Argentina's Martina Cavallero did a dramatic dive and, on a tight angle, hit a low strike to the keeper's right.
New Zealand equalised when Harrison scored her second field goal of the tournament.
Argentina had the chance to take the lead just before half time when they were awarded a penalty corner, but New Zealand successfully cleared it.
Early in the second half, both teams had ample opportunities, including a cracking shot from Sian Fremaux and a good set-up by Glynn. Penalty corners were awarded to both teams, but neither could convert.
In the final 10 minutes of the match, the Black Sticks attacked with confidence and continued to put pressure on Argentina until they were awarded a penalty corner from which Glynn found the back of the net.
Argentina has brought across a full-strength team for the Four Nations, with the majority of players silver medallists from the London Olympics. Star player Luciana Aymar (seven times FIH world player of the year) is not due to play until the weekend, having arrived in New Zealand only today.
The Four Nations is an important tournament for the national selectors, who are all in attendance and are using it as an opportunity to test New Zealand's young talent against some top international teams.
Following this tournament, a side will be selected for the FIH World League Semi-Final, which is to be held in Rotterdam in June and is the qualification event for the 2014 World Cup.
In the earlier game, the USA got away to a flying start against Korea when Torrie Albini scored from a penalty corner in the opening minute. Korea got the equaliser in the 29th minute when Ok Ju Kim scored from a penalty corner variation.
Although USA had the lion's share of possession in the second half, when Korea got the ball they were explosive down the side and at times had their rivals scrambling in defence. It wasn't until the 64th minute that Lara Parsley, playing only her second international, put one away and secured a win for her side.
The Black Sticks will play their final game against the USA at 3pm tomorrow, before the playoffs on Sunday. Korea will play Argentina in the earlier game at 1pm tomorrow.
All weekend games during the Four Nations will be streamed live on the Hockey New Zealand website.
Next week, the teams will play the second tournament in Hamilton and Tauranga.