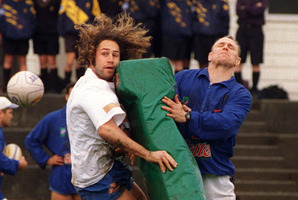 1 Round 2
If Fight for Life organisers are looking for another match-up, they could ask Matt Elliott to get in the ring with Radio Sport's Mark Whatshisface. The Warriors coach took umbrage at the shock jock's suggestions the club shouldn't have played Kevin Locke in last weekend's defeat to Souths after being knocked out the previous weekend. "I won't be taking that from anyone, that we don't care for our players," Elliott bristled. "That guy has no idea, no right and he really needs to zip it. Goose."
2 Name game
The NRL's insistence that clubs name their sides for the next weekend's games on a Tuesday is a flawed process. This was highlighted by the situation for the Wests Tigers and the Warriors this week. Farcically, Benji Marshall was named to play the Dragons this weekend, but little more than 24 hours later it was confirmed he was out for four weeks with a toe injury.
The Warriors named Jacob Lillyman and Elijah Taylor to play Canberra, but both are major doubts while Dane Nielsen, who wasn't originally named in the 18, will start. It's done so clubs can print their programmes, but they don't often correlate to who runs out on the field.
3 Blast from the past
It has been a long time since the Warriors won in Canberra - 1997 in fact. Interesting names that appeared on that auspicious occasion included Iva Ropati of the famous Ropati clan, Bryan Henare and a shaggy-haired convert who did the goalkicking that day and enjoyed only mixed success during his stint at Mt Smart, More FM DJ and juice magnate Marc Ellis.
4 Protected species
The Bulldogs will hope they can contain Sonny Bill Williams, but extra security has been hired to follow SBW to ensure they contain any angry fans. The 28-year-old will tonight play the club he walked out on five years ago and the Roosters, Bulldogs and police decided to hire a couple of burly men to shadow Williams when he goes to Allianz Stadium. It's not known whether angry Bulldogs players will be considered a threat.
5 Poster boy
Everyone has been preaching calm over Williams this week, but Roosters officials did little to defuse the situation by putting up posters showing SBW in a Roosters shirt in the middle of Bulldogs territory this week. One official said it was done to remind Bulldogs fans of when the match was taking place but also acknowledged it wouldn't hurt to increase the hype.
6 Game of the week
Most attention will be focused on tonight's showdown between the Bulldogs and Sonny Bill Williams, but tomorrow night pits the two unbeaten sides, Melbourne and Souths, against each other. The Melbourne juggernaut doesn't look like being derailed any time soon, but the Rabbitohs might finally have put substance behind the hype and it would be no surprise to see these two teams in this year's grand final.