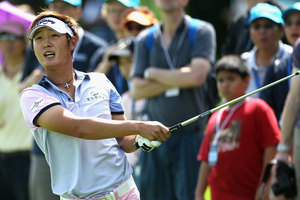 Danny Lee doesn't know why but he feels at home at the Midland Country Club in Texas.
The former US Amateur Champion, who almost became the first golfer to win the same Web.com event in back-to-back years at the WNB Golf Classic in 2012, arrived at the course this week in freezing conditions as a pre-tournament favourite.
Lee, who finished in a share of 10th place last week at the inaugural Brasil Classic, has had a solid start to the 2013 season.
He is looking for another strong showing at the Midland Country Club.
"I don't think it fits my eyes," he told the Web.Com Tour website. "But for some reason when I hit a bad shot, I end up in not such a bad spot to hit into the green. I think my bad shots have a way of not ending up in such bad places. I guess this course really likes me or something."
It was Lee's win in 2011 at Midland that saw him earn a PGA Tour card in 2012. Last year he finished outside the top 125 players on the money list and missed regaining his card at Q School by one shot.
Lee, who is 18th on the Web.com Tour money list with top-10 finishes in two of his past three starts, could make a big play towards his chances of returning to the PGA Tour with a quality performance this week.
The 22-year-old Rotorua professional led after two rounds at the Sao Paulo Golf Club last week before he faded on the weekend.
"I think I've got to be more patient, let the putts drop," he said. "I'm still trying to not get frustrated out there. But I do get frustrated, and I'm working very hard on that. Hopefully I'll get it shortly."
Lee also learned some lessons on his first full season on the PGA Tour. He recorded only three top-25 finishes in 26 starts and admitted he probably played too much.
"I wasn't getting a lot of practice in," he said. "I was more worried about getting really tired and not playing much. I think I didn't put much effort into my game. That kind of stuff really didn't help me."
He almost recovered in spectacular fashion. He got off to a disastrous start at Q School - he was 150th after two rounds - and came back to only miss by one shot.
The Kiwi has not yet lived up to the hype that surrounded him when he was the World No 1 amateur but he is still only 22.
Lee shot to notoriety when he became the youngest champion of the US Amateur at Pinehurst in 2008 usurping the record of Tiger Woods.
Only six months later, he continued in that same vein when he became the youngest player to win a European Tour event when he claimed the Johnnie Walker Classic in Perth. It is a win that Lee still rates as his finest achievement in golf.
He said those days "seem like a very, very long time ago. It seems like a hundred years ago".
Lee said he struggled with the pressure of expectation in his early years as a professional.
"Every golfer comes to an event not just trying to finish in the top 10," Lee said. "Every golfer comes to an event thinking he can win the golf tournament. I don't think we can ever avoid that. I've just got to figure out how to become a more consistent player."
Lee hopes that a change in caddy will help that consistency. Compatriot Jason Laing, who is a former Web.com Tour player, has been helping Lee to be more conservative and patient.
"When I was young, I'd always been an aggressive player," he said. "When I tried to play conservative, it never really worked - actually played worse. But it seems like as my body's gotten bigger and I've been out here - still not a long time - but my game needed to change a little bit."
He is trying to work on his consistency and take the streakiness out of his game particularly when it comes to the weekend. He leads the Web.com Tour with a scoring average of 67.9 before the cut. On the weekend he falls back with an average of 71.5.
"We're working on mental stuff," he said. "It's definitely not easy when things start not going well. You hit a good shot and end up in the wrong spot, it really makes you disappointed or angry.
"It's improving, but I want to have it right now. That's the problem, I guess. I want everything to be perfect right now, instead of later."
Lee is still only a 22 but he has learned a great deal in his first few years as a professional. He is hoping to put those lessons into play this season starting this week in Texas where he has enjoyed considerable success.
- APNZ