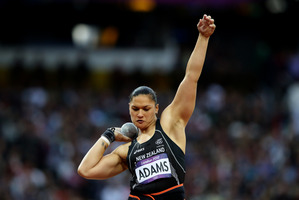 Try this for a riddle: Name the athlete set to be the only woman to win four consecutive world championships in the shot put but whose best performance ranks her with the also-rans.
The answer is Val Adams, one of two female shot putters who have won back-to-back Olympic titles. The other was Soviet Tamara Press in 1960 and 1964. Yet Adams, with access to all the wonders of modern sports science, remains 23rd on the all-time list for distance.
Her 21.24m best was set at the world championships in Daegu, South Korea, in August 2011. The 22.63m world record, set by Soviet Natalya Lisovskaya at Moscow in June 1987, remains 1.39m outside her reach.
Adams heads to Moscow for the world championships in August. She acknowledges the world record is beyond her but it hasn't dulled the dream of collecting another world championship.
"It doesn't really concern me. What concerns me more is the future. Okay, realistically I'm No23, but how many of those athletes have been suspended ... and the rest of it. C'est la vie.
"Cheats are often going to be in front of the chasers but WADA is getting on top of these things. London [where Olympic gold medallist Nadzeya Ostapchuk was disqualified for using a banned substance and Adams was promoted from silver] was an example of how good they're getting at catching cheats. I have faith in what WADA's doing. Unfortunately athletics is one of those sports known for banned substance use."
Before Adams, New Zealand had won just one world championship since the event's 1983 inception - Beatrice Faumuina's 1997 discus title. Adams has largely dominated her discipline since, including a rivalry with Ostapchuk. A number of the Belarussian's other titles are also under investigation.
Adams cuts a composed figure until the topic of Ostapchuk's 12th place on the all-time outdoor list (a 21.58m throw last July) and third on the indoor list (a 21.70m throw in February 2010) are mentioned.
She bristles briefly: "Yeah but nah. To be honest, I've probably visited the all-time list twice. I can't do anything about it. What I know is she will be remembered for something she did, and I will be remembered for the good things I've done. That's all that matters."
One example of those "good things" came last month when Adams threw at the Pacific Showcase Market at The Cloud in Auckland's central business district. Crowd control was required to monitor the flow of people. She has moved into territory occupied by our most iconic track and field athletes such as fellow Olympic champions Jack Lovelock, Yvette Williams, Murray Halberg, Peter Snell and John Walker.
"It [Olympic success] has definitely changed my life but if I can inspire one person with my story, my job is done and I can die happy," Adams says. "That's my goal, I do it because I love it. I came from South Auckland, we had nothing but my mother inspired me. Hopefully others can make changes because of me."
While that seems in little doubt, Adams was prepared to endure a solitary existence in the Swiss Alps for two European summers under the coaching of Jean-Pierre Egger to achieve her success.
"The last few years I've been eating and sleeping in the training centre. It was like training at [Auckland's] Millennium Institute and sleeping next door. This year I have an apartment in a town called Biel. Thankfully I've found a Kiwi family there. Royna Benseman Roserens [from Queenstown] is married to Cedi [Cedric from Switzerland]. They're the only Kiwis there so we've hung out." "
Royna Benseman Roserens says the family loves having "Aunty Val" over: " My [19-year-old] daughter Rebeka and I need a connection to home and Val's it. I'm her 'Mama Bear' when she's here. She's always welcome to come over for some kai.
"After the Olympics I gave her a hug and felt her whole body shaking when I dropped her off at her room in Magglingen. It was heart-breaking leaving her. This year Val will stay in an apartment Cedric's Mum bought in town to save her sanity."