Trainer irked Black Caviar will not step out until final race, when track will be at its worst.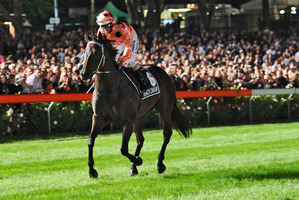 Champion sprinter Black Caviar has been posted as a $1.10 favourite to stretch her unbeaten record at Randwick on Saturday.
In first markets on the A$1 million TJ Smith Stakes, Black Caviar is a shorter-priced favourite than when she won the sprint in 2011.
Regarded as one of the best of her 24 wins, Black Caviar started at $1.14 when she gave Hay List a decent start and beating two years ago.
Black Caviar has drawn the inside gate in a field of 11 on Saturday.
And in a piece of good fortune that should work in her favour, the notorious slow beginner Bel Sprinter is drawn next to her, almost guaranteeing her a favourable run in her bid to win her 25th straight race.
But the barrier draw is of less consequence to trainer Peter Moody than the programming of the group one event as the final race of nine.
"If the track was to be wet than it would be even worse after eight races," Moody said. "I've been pretty clear that she won't run on a wet track. That hasn't changed."
Moody said he understood the reasoning in making Black Caviar's race the last.
"The last time we were here two years ago we were in race four and everyone went home after it," he said.
Moody suggested a slow 6 track rating would be the limit. Any worse and she will be scratched.
Among the acceptors is the injury-plagued Hay List who came through a fitness test yesterday.
However, it was a much more ebullient Moody on Tuesday after the Great One wowed him with a scintillating gallop on the eve of her mission to Sydney.
Race jockey Luke Nolen piloted Black Caviar the clockwise (Sydney) way at Caulfield and Moody told the Herald Sun it was "nearly the fastest she has gone here".
Moody said she had not looked better and been as sound since her 3-year-old days. She skipped over the course proper on Tuesday for 800m in 50.2sec, dashing home the last 400m in less than 22sec.
Moody expects Black Caviar to account for the starters as she has all others in her career.
He described as "a bit ridiculous" comments by Sydney trainer Joe Pride, who will run Rain Affair and Title, that this race "won't just be a trot and canter like some of the races that Black Caviar has been in".
"They are all fast until she is around," the laconic horseman observed.
- AAP