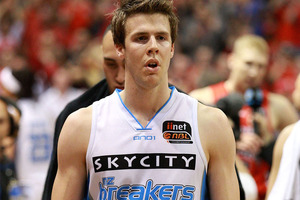 One win away from a third straight championship, the Breakers' potential quest for an unprecedented fourth could be hindered by a pair of players attempting to make it in America.
Cedric Jackson seems destined to head back to the bright lights of the NBA and, at the very least, he will again be playing in the NBA Summer League in July.
But Jackson may not be the only one. Tom Abercrombie hasn't ruled out having a crack at realising his NBA dream, with his agent already hinting at what opportunities may arise for the swingman.
Abercrombie's season could be over following Friday night's grand final game two in Perth, where a victory would see the Breakers join the 2003-05 Sydney Kings as the only side to earn a hattrick of titles.
After that, the 25-year-old plans to rest his troublesome ankle with a well-earned vacation in Hawaii.
But whether he then makes a trip to the Mainland remains to be seen.
"I'm open to whatever comes up but I haven't spoken to my agent one iota about [the NBA Summer League] yet,'' Abercrombie said.
"He's told me there are some things that'll probably come up but I've told him that we'll wait till after the season's done before we talk about that.''
NBA teams typically hold camps in June before the Summer League - a competition which allows rookies and hopefuls the chance to try out for the big show - begins the next month.
That schedule would give Abercrombie ample opportunity to recover from the rigors of the season and ensure the ankle injury he sustained in last year's playoffs can finally be fully overcome.
The joint has recovered to the point where it doesn't impede him in games, but it is still short of 100 per cent and only a period with the feet up will see that number attained.
For that reason, Abercrombie is also skipping the New Zealand NBL, knowing that back-to-back competitions would inhibit his health.
"It's crucial that you find some point during the year to let the body recover,'' he said. "I've still got a few lingering things from over the season, so you need to find some time off.
"I'm just going to take a little time to recover and get everything right, then see what kind of opportunities come up.''
Before the beaches of Waikiki comes a clash in the wild west of Australia with the desperate Wildcats.
Playing to prevent the Breakers from ending their season for a third year running, Perth will enjoy the friendly confines of home where they are unbeaten in 14 games.
Abercrombie thinks Perth Arena, filled with 12,000 feral fans, will make the Cats a different prospect from the team which shot a woeful six of 34 attempts from beyond the arc in game one.
"Their backs are against the wall and they're playing for their lives,'' he said. ``They'll back themselves to shoot the ball a bit better at home in their own gym.
"It's up to us to try to bring that same defensive intensity and force them into taking tough shots. That's when they start missing.''
If Perth keep missing, the series is unlikely to return to Auckland for game three next Thursday. Even if it means missing out on cutting down the nets in front of a home crowd, Abercrombie was eager to end the season as soon as possible.
"We've really risen to every challenge this year, and this is one we haven't ticked off the list - winning over in Perth.
"We want to go over there and get the job done in two.''
- APNZ