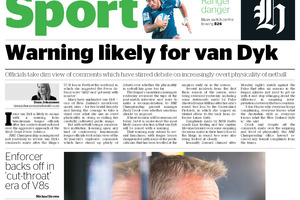 A brief look at the sports stories that are making news this morning.
IN THE PAPER
Warning likely for van Dyk
Officials take dim view of comments which have stirred debate on increasingly overt physicality of netball Irene van Dyk is likely to escape with a warning from transtasman league officials after her controversial outburst over the aggressive approach of the West Coast Fever defence.
What now?
A final decision will be announced today, but it is understood the most likely course of action is that van Dyk will be issued with a warning.
See also: van Dyk comments 'sad' - Plummer
Extra danger on the wing
All season, Rene Ranger has been a threat for the Blues and he is about to stretch that potency against the Hurricanes.
Ranger on the wing
The Blues do not announce their side until tomorrow but they need to replace the suspended George Moala and think using Francis Saili at centre and Ranger on the wing is the best solution.
Hansen tells Smith: Back to basics
All Blacks coach Steve Hansen says Aaron Smith's frustrations at the Highlanders are affecting his game and he needs to take on less to help his team and himself.
Only two months before the All Blacks' first test of the year against France, 24-year-old Smith appears to be taking on too much as he tries to organise his team to their first win of the season.
Warriors to face hoodoo
The Warriors have a dreadful record against the Raiders in Canberra but they will at least be able to field their strongest propping rotation for the first time in 17 matches.
Hoodoo, what hoodoo?
Canberra Stadium has been one of the most challenging venues for the Warriors with just one win - in 1997 - in 10 visits.
OVERNIGHT NEWS
Burger remains hospitalised
Springbok flank Schalk Burger remains hospitalised nearly two weeks after contracting bacterial meningitis following an operation on a calf injury.
Long break
Burger hasn't played since injuring his knee over a year ago. He was due to return to Super Rugby this season for the Cape Town-based Stormers, only to hurt his calf and then pick up bacterial meningitis.
Woods to play with Donald, Piercy
Tiger Woods will play the first two rounds of the Masters with Luke Donald and Scott Piercy.
And the rest
Rory McIlroy and Phil Mickelson are at the back end of the draw for the opening round. Mickelson tees off at 1:30 p.m local time with Louis Oosthuizen and Martin Kaymer. McIlroy is in the group right behind him with Keegan Bradley and Freddie Jacobson of Sweden.
COMING UP
- We have live updates of the two Champions League quarterfinals this morning from 6.45am.
Galatasaray v Real Madrid
Borussia Dortmund v Malaga
- NZRU CEO Steve Tew and All Blacks coach Steve Hansen will hold a press conference at 11am with Hansen expected to announce a new coaching deal through to 2015.
- In his NRL column Justis Kamu looks at the six key issues from the latest round.
BY THE NUMBERS
4 month unbeaten run by English Premier league soccer leaders Manchester United ended by Manchester City.
12 point competition lead by Manchester United with seven rounds to go.
900th win by United manager Sir Alex Ferguson foiled by the loss.
QUOTE OF THE DAY
"I come here and I'm not scared of hitting it in the wrong spot."
Australian Adam Scott is confident of doing well at golf's Masters at Augusta