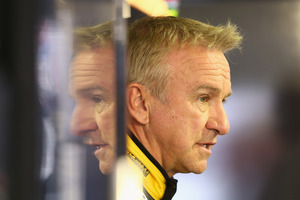 Russell Ingall is still known as The Enforcer but sees himself more as The Endorser these days because of all of the rules and regulations that can hit V8 Supercars drivers in the pocket.
The 49-year-old Supercheap Auto driver, who will probably step away from V8 Supercars at the end of the season, has been one of the most popular drivers over his 18-year career. He didn't mind copping a fine in yesteryear after tangling with a competitor on the track but doesn't enjoy having to explain himself after every misdemeanour now.
Ingall is a bit like the Pukekohe Park Raceway, where the ITM 400 will be raced this weekend for the first time since 2007 and which has undergone a facelift to comply with regulations. It had plenty of character through the years and Ingall hopes that hasn't been lost.
Ingall emerged in V8 Supercars alongside Larry Perkins in a Commodore in 1996. It was a different era, when the likes of Peter Brock, Dick Johnson, Perkins and John Bowe held court on and off the track.
"The new era of drivers take it pretty seriously," he said. "The young drivers are very disciplined, very focused on fitness but probably haven't got that same out-of-car personality and persona that some of the true legends of the sport had.
"There's a lot more money in the sport and, as soon as that happens, it becomes more cut-throat and political. That part I don't enjoy. I don't enjoy not trusting people. The best part is when I close that door and start the car up, then I don't have to worry about all of that.
"I didn't worry too much if I copped a heap of fines [when I first started] but I have backed off a bit more now because I don't like giving away my money any more. They have almost forced you into being the clean-cut driver they want. Is it good for the crowd? I don't think so. I don't enjoy having a bit of a rub up with someone and then having to explain yourself. I have gone off a bit from the enforcer to the endorser."
It is a tribute to Ingall's ability to adapt that he's closing in on the record for the most starts in V8s. Last weekend he overtook Mark Skaife (220), and is closing in on Bowe (225).
He is not ruling out a 19th season but is keen to get into racing sports cars, at least one Nascar race and some NZV8 SuperTourers. APNZ