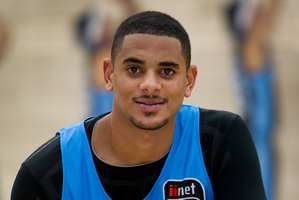 In a talented Breakers backcourt boasting multiple rings and even NBA experience, a junior partner has quietly established himself as an integral part of the title defence.
Corey Webster has come a long way from spending nights stacking shelves at Pak 'n Save and he's made that journey with the same rapid speed at which he makes baskets.
The 24-year-old has always been able to score. That ability is why the Breakers always held him in high regard, and it's also why they gave him a second chance after drug offences resulted in his contract being terminated in 2011.
But, having been welcomed back from the basketball abyss, Webster has added new elements to his game, becoming a well-rounded player at both ends of the court and one whose influence has demanded more minutes off the bench.
With the Breakers shooting for a famous three-peat of Australian NBL titles in Perth on Friday, the guard is now relied on by his teammates and trusted by his coaches, something almost unfathomable a year ago.
To understand how far Webster had fallen, ask about his wildest dreams while he was slogging away at the supermarket.
Was he imagining making a defining impact on the biggest stage in Australasian basketball? Did he have a singular aim of adding another ring to his budding collection?
"My focus at that time was just to get back on the team," he said. "Now, having gone through the season to be in this position, it's just a dream come true.
"I'm just grateful and thankful that I got the opportunity to do it all again."
Webster would have understood had the club failed to grant that opportunity at all. The franchise didn't take kindly to Webster testing positive for synthetic cannabis and being suspended from the sport for 12 months.
"My mindset is that I'm forever paying them back for this opportunity they gave me, because they could have just let me go so easily," he said. "I think I have earned back their trust but I have to keep it up and keep it going."
That's an apt description of Webster's contribution to the Breakers during this campaign, particularly as the season has worn on. He earned the nickname "the microwave" for heating up in a hurry and at times he seems to score at will.
Webster said accruing points was second nature to him, something he's been doing since he was a kid, and his teammates tend to agree.
"We play one-on-one a lot at practice and there's not too many guys tougher to guard," said Tom Abercrombie, who has played with Webster since the pair were schoolboys.
"He's always been able to score the ball but he's adding so many other elements to his game now and becoming a really well-rounded player."
Webster credits work put in during the off-season in China, under the tutelage of former Australian coach Brian Goorjian, for the enhancements at the defensive end.
"[Goorjian] got me in great shape and that makes it easier to play defence - you can play both ends of the court and don't have to rest."
Another prime factor is the player Webster comes off the bench to replace.
"It's an honour to go up against Cedric [Jackson] every day at practice. If you can compete against a player like that, then it gives you the confidence to make you feel like you can go and compete against anybody."
Webster will take that confidence to Perth on Friday, knowing one more win will see his past indiscretions become a mere footnote.
- APNZ