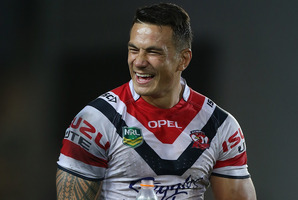 He'll be the centre of attention on Friday night, but Sydney Roosters players believe a hate campaign from Canterbury fans will only serve to further inspire gun forward Sonny Bill Williams.
Williams will play the Bulldogs for the first time since walking out on the club in 2008 - a controversial move which continues to rankle fans of the 2012 grand finalists five years on.
Officials are hopeful of drawing a crowd in excess of the near-36,000 who turned up for the round one clash with South Sydney.
Hooker Jake Friend knows the vast majority of Bulldogs fans who turn up will have their focus firmly on Williams - and he doesn't expect it to be a friendly welcome either.
"Probably not the nicest one, but that's alright," Friend said.
The 27-year-old dual international has started the season in explosive form and according to his teammates that is only going to be heightened if he is the target for jeering at Allianz Stadium.
"I think it pumps you up a bit more," Friend said of the potentially hostile environment.
"Just knowing that they're all against you, it definitely pumps you up to try and shut them up a bit."
Reigning Dally M medal winner Ben Barba is the only player on the current Canterbury roster who was at the Bulldogs when Williams fled the country to play rugby union in France.
Because of that, the on-field rivalry isn't expected to be as fierce as the hatred which will flow from the grandstands.
Intimidating Roosters front-rower Jared Waerea-Hargreaves expects the Bulldogs fans to be "rowdy" but isn't anticipating anything that will throw Williams off his game.
"He's dealt with it before in his career," he said.
"I guess he'd be looking forward to the challenge. I know we all are.
"... I guess they'll be a little bit rowdy. They're definitely going to be loud.
"... They definitely are passionate.
"Hopefully a whole heap of them can come along ... as long as (their passion) isn't too overboard."
Prop Marty Kennedy said in his short time at the Roosters Williams had been instrumental in helping change the club's culture - and said as a team they were backing him wholeheartedly going into Friday.
"He's been great for the team but he's been exponentially better for the club. He's a great clubman, a great trainer," Kennedy told AAP.
"He's been invaluable for us this year in trying to develop what we want to happen here.
"We're trying to move this club forward and create a different character about the place.
"It's the things that no one gets to see from the outside world looking in that mean the most to us.
"He's one of our hardest trainers and he's been fantastic for the young guys.
"He's a hard player to put off his game. He's played both codes at the highest level.
"I don't think it will be an issue for him ... the team sees it as a one-in all-in sort of thing. We're right behind him."
- AAP