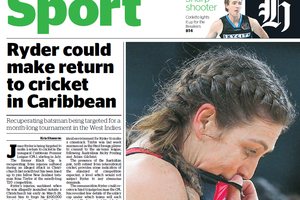 A brief look at the sports stories that are making news this morning.
IN THE PAPER
Ryder could make return to cricket in Caribbean
The Herald leads with Jesse Ryder being targeted to make a return to cricket in the inaugural Caribbean Premier League (CPL), starting in July.
The CPL?
The inaugural CPL tournament will be played from July 29 to August 26 by six franchise countries: Antigua & Barbuda, Barbados, Guyana, Jamaica, St. Lucia and Trinidad & Tobago. Ross Taylor is the only New Zealander yet to sign on for the tournament.
Officials set to decide fate of van Dyk
Transtasman league officials will make a decision today over whether Irene van Dyk will face sanctions for her post-match outburst in Perth.
What now?
The league has the power to impose penalties ranging from fines to, at the extreme end of offending, suspensions for players who breach the competition rules.
OVERNIGHT NEWS
Shocked Melbourne wrap up late win
If you missed the Monday night league result...NRL champions Melbourne suffered an almighty scare by a fired-up Wests Tigers before escaping with a 26-12 win at AAMI Park.
Benji down
Benji Marshall is in doubt for the Anzac test on April 19 after leaving the field with a toe injury.
Pulse get on the board
Also in Monday night sport, the Central Pulse beat the New South Wales Swifts in Porirua, for their first win of the year.
Turnovers key
The home side only gave away the ball five times during the first 15 minutes compared to the 11 turnovers the Swifts made, which would have been infuriating for coach Lisa Beehag.
IOC mulls requests for new Olympic events
IOC sports director Christophe Dubi says proposed new medal events for the 2016 Rio Olympics which include 3-on-3 basketball, BMX freestyle and eight more swimming races are now being assessed.
What now?
The IOC executive board will decide on Aug. 9 in Moscow which events to add after studying reports from Dubi's department.
Clarke out of Masters
Former British Open champion Darren Clarke has withdrawn from the Masters because of a hamstring injury.
Some holiday
Clarke pulled his hamstring while on vacation in the Bahamas. Sorry Darren Clarke fans you'll have to watch Tiger Woods and Phil Mickelson in action at Augusta instead.
Coming up:
-We have livescoring of the Manchester derby which kicks off at 7am. Match coverage after 9am.
-Tracey Nelson crunches the numbers from the weekend's Super 15 action with her Stats Don't Lie blog. Live on the site after 12.
By the numbers
2nd place by Indycar driver Scott Dixon for the fourth consecutive year on the Alabama road course.
Six. The number of games left in the season when Bayern Munich clinched a record 23rd German league title.
3rd straight win by Olympic silver medallist Dejen Gebremeskel of Ethiopia in the Carlsbad 5000 running race.
Quote of the day
"It's a good fight because Botha is very experienced."
Kiwi boxer Joseph Parker on his upcoming fight with Francois Botha