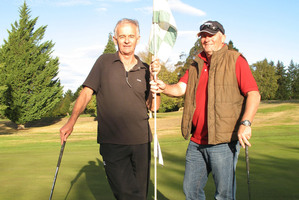 Two golfing partners have beaten odds of one in 17 million by both shooting a hole-in-one on the same hole with consecutive shots.
Wayne Cameron and Colin Hurley achieved the feat on the 102m par 3 15th at the Wanaka Golf Club in perfect conditions yesterday.
The United States-based National Hole-In-One Registry calculates the odds of two golfers from the same group acing the same hole as 17 million to one.
Cameron, 59, said the achievement was "just bizarre".
"I'm glad we had a witness, otherwise it would have been a Tui ad."
It was the first hole-in-one for both men, who are regulars at the Otakou club, near Dunedin. It was also the first round on the course for the pair, who were preparing for a five-day, five-course tournament next week.
Gold Coast-based Hurley, 54, who plays off a handicap of 11, went off first.
"I just hit it, it bounced on to the green and went in," he said.
"There were clubs everywhere, high fives ... two other players stopped to congratulate us."
Cameron, who runs Ric's Fish and Chips, in Dunedin, and plays off 15, was inspired by his playing partner.
"I said, 'Oh well, you've won this bloody hole, I may as well just step up and hit it in the hole, too.'
"And that's what happened. Same shot. We just went off."
The men, who both used a pitching wedge for their aces, were planning a quiet celebration last night and contemplating framing the balls.
They were relieved the extraordinary double was witnessed by another pair on the course.
Two Australian golfers had consecutive holes-in-one on the same hole at The Lakes course last year, and there are a handful of recorded instances in the United States.
- Otago Daily Times