Hard work off the court propels franchise towards third successive championship.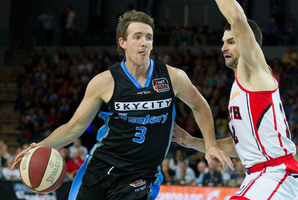 The recipe for any championship team usually requires a few hardened veterans, mixed in with some homegrown youth and capped by a couple of influential recruits.
One win away from a third-straight championship, the Breakers have all those ingredients in abundance, but they have been particularly savvy in their recruitment.
Kevin Braswell, Gary Wilkinson, Cedric Jackson and, now, Will Hudson have all played their part in the Breakers' title-winning teams, and while Daryl Corletto is not strictly an import, the Australian is further proof of the front office's nous.
Corletto lit up Vector Arena in the Breakers' game one victory over the Wildcats on Sunday, scoring a game-high 19 points as his side put one hand on the trophy ahead of Friday night's second game in Perth.
Corletto shot seven-of-10 from the field and made three triples as the Breakers maintained a healthy buffer throughout much of the contest, while he also made five quick-fire points in the fourth to stave off an attempted Wildcats revival.
"You always know that Daryl's got that in him," coach Andrej Lemanis said. "I thought he did a good job of finding different ways to score.
"You look at his offensive numbers, which were obviously very good, but he also took on the challenge of guarding [Kevin] Lisch for a lot of the game and I thought he did a good job there."
In his second season at the franchise - and with wife Julie having this year joined him to play netball for the Northern Mystics - Corletto has found a second home on the North Shore, as have many overseas professionals before him.
It's one thing to ensure the club recruits "no dickheads", as owner Paul Blackwell famously espoused, but it's another to bring in players whose exemplary personalities are matched by their play on the court.
The Breakers have achieved that blend to perfection in recent seasons, and it is one of the driving factors behind their success.
After catching lightning in a bottle with Braswell and watching the American drain a few key baskets in their first title-winning season, the Breakers jettisoned the guard as they sought to find a ball-handler to replace the retiring Paul Henare. They found him in the US-based Jackson, this season's MVP and the Breakers' best player throughout the past two campaigns.
After they decided to elevate Alex Pledger to the starting centre role and part ways with Wilkinson, a player guaranteed to grab 15 points a game, the Breakers brought in Hudson from the now-defunct Gold Coast Blaze. A different player to Wilkinson, he has proved an ideal complement for Pledger and his impact was obvious in the desperation to have him return from injury in time for the playoffs.
Before the quartet of Americans, the likes of CJ Bruton, Dillon Boucher and Kirk Penney were all more obvious acquisitions, but the players still had to be convinced to up sticks and put their faith in a faltering franchise.
What's next
•Game two is in Perth on Friday night, starting at 11.30 NZT.
•Game three, if required, is back at Vector Arena on April 18 at 7.30pm.
- APNZ