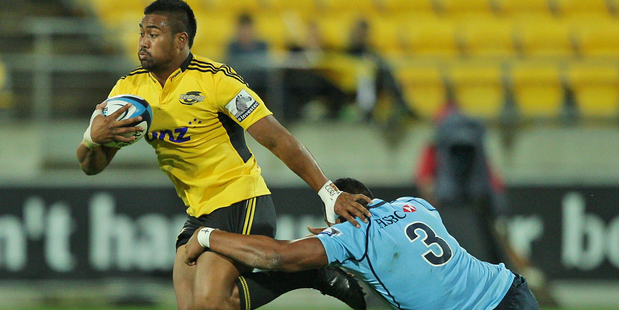 Wynne Gray names the top back, standout forward and the four in-form teams from the weekend's Super 15 action.
Back of the week
Julian Savea - Hurricanes
It says a great deal about Savea's progress that we expect big things from every appearance. An imposing physical sight, Savea is nowhunting work and creating all sorts of defensive misery for opposing teams. Just ask the Waratahs. They were sick of him and his younger bro by the end of their weekend duel. Savea's clash with another big man, Frank Halai from the Blues, should be gold this weekend.
Forward of the week
Mose Tuiali'i - Highlanders
We haven't seen Tuiali'i playing footy down here for some time and wondered what shape he would be in for Super 15 work. Wonder no more. The former All Black No 8 was a big contributor for the Highlanders and if more in the side had followed his work ethic they would have stopped their losing streak at five.
This week he's got to step out against the Brumbies and compare notes with the massive Fotu Auelua.
Coach killer
Ma'a Nonu - Highlanders
The Highlanders had started with real purpose and accuracy, they had the Blues under all sorts of heat on the scoreboard and across Eden Park. The hosts were starting to look at each other questioning their value. Then Nonu jumped up and clouted Weepu with a shoulder charge. All Blacks are supposed to show others how to play. Some example; goodbye Nonu, hello the Blues.
The Fab Four
1 - Cheetahs
Won 26-24 v Stormers, Bloemfontein
6th overall, 2nd in SAC
The Cheetahs bring an edge to their rugby which does not fit the South African template. They have travelled to NewZealand and Australia and do not get their first bye until round 12 but they are getting results.We love that especiallywhen they keep knocking over their main rivals like the Stormers. Third-choice five-eighths Burton Francis was the hero, kicking a penalty deep into injury time and fromwide out on the sideline, to increase the Cheetahs' winning sequence to five.
2 - Hurricanes
Won 41-29 v Waratahs,Wellington
5nd overall, 2nd in NZC
The 'Canes continued their momentum with a severely rearranged pack as the Savea brothers topped the celebrations in their first Super 15 match together. Wing Julian bagged two tries with a great cut and juggling catch for his second while younger bro Ardie showed why he gets rave reviews in the capital. Other standouts: Beauden Barrett's tactical and goal kicking and loosehead prop Reg Goodes' turbo burst for a try.
3 - Brumbies
Draw28-28 v Kings, Canberra
2nd overall, 1st in AC
Exaggeration comes with the territory in Ockerstralia but this was a heck of a result even by their calculations. Certainly not the greatest upset in Super 15 history but it was a shock. And when the Brumbies had the chance to shut the game down and walk away with a face-saving win, they coughed up a rash of penalties and the Kings punished them. Now the damaged Highlanders will fancy they can do the same on Friday to open their tournament account.
4 - Blues
Won 29-18 v Highlanders, Eden Park
7th overall, 3rd in NZC
The Blues took the spoils from the Tango of the Tormented while the Highlanders were left to lament an item which is oval, synthetic and valuable. They certainly did not treasure possession and the Blues were not much better. Pressure produces all sorts of reactions and formuch of this match they were errors until somelate magic with Rene Ranger and Piri Weepu as central figures, delivered the precious cargo to the Blues.
FORM XV
15 Ben Smith - Highlanders
14 Frank Halai - Blues
13 Conrad Smith - Hurricanes
12 Ryan Crotty - Crusaders
11 Julian Savea - Hurricanes
10 Beauden Barrett - Hurricanes
9 Piri Weepu - Blues
8 Mose Tuiali'i - Highlanders
7 Matt Todd - Crusaders
6 Brad Shields - Hurricanes
5 Luke Romano - Crusaders
4 Ali Williams - Blues
3 Owen Franks - Crusaders
2 Motu Matu'u - Hurricanes
1 Jamie Mackintosh - Highlanders