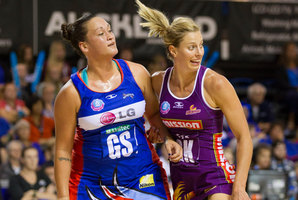 Cast as a villain in the debate over the increased physicality in the transtasman league, Firebirds defender Laura Geitz kept her nose clean last night as her side romped to a 21-goal win over the Mystics.
Geitz found herself at the centre of storm last week after Pulse shooter Donna Wilkins' angry outburst about the defender's tactics in their round two clash in Porirua.
The combative defender was back in hostile territory, with the Firebirds star getting plenty of stick from the parochial Mystics home crowd, but ironically Geitz was the least penalised defender on the court as the Mystics were hammered 67-44 in the penalty count.
But the controversy over the physical approach of the Australian sides shows no sign of abating after Magic sharpshooter Irene van Dyk has been the latest to hit out at Aussie brutality.
Van Dyk unleashed a stinging attack on the aggressive defensive tactics employed by the West Coast Fever after her side's 14-game winning streak came to an end in Perth.
Frustrated after copping a battering under the goal by Fever defenders Eboni Beckford-Chambers and Josie Janz, van Dyk came out swinging herself in the post-match interview, claiming the pair were "dirty" and "got away with murder".
It has become a rather tiresome scenario: the Kiwi teams complaining about the physicality of the Australian sides after a loss. But the fact usually unflappable van Dyk, who is always the target of opposition defences, was moved to speak out about rough treatment is instructive.
Van Dyk can expect a phonecall from league officials tomorrow, with her frank assessment of the Fever defence likely to land her in hot water from an organisation that frowns at any hint of controversy.
The ANZ Championship office would do well to listen to the concerns of the players though, with frustration over the differing umpiring interpretations increasing every season.
Umpiring complaints aside, even the most one-eyed of supporters would have to admit both the Magic and Mystics were comprehensively outplayed by their opposition yesterday as the competition's 'Rivalry Round' became 'Demolition Round' for the Kiwi teams.
While just six goals separated the Magic and Fever in Perth, it took a 20-12 final quarter rally from the Waikato-Bay of Plenty side to bring some respectability back to the scoreline.
There was no salvaging the Mystics night, with the home side outgunned from the opening whistle as their faltering defence, which leaked 80 goals to the Fever last week, struggled to contain Jamaican scoring machine Romelda Aiken.
The Mystics conceded 72 goals to the Firebirds - 56 of which were scored by Aiken - to underline their status as the worst-performing defensive unit in the league.
Their efforts to try and stop the 1.96m Aiken saw the Mystics hammered 67-44 in the penalty count, with Jess Moulds and Julie Corletto drawing the most whistle.
Fever 57 Magic 51
Firebirds 72 Mystics 51