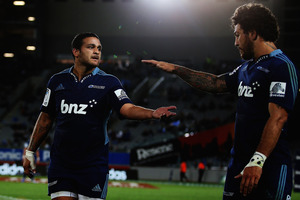 Senior prop Charlie Faumuina has been ruled out for the season as the Blues contemplate a troubled buildup to their next clash with the Hurricanes.
Backup halfback Bryn Hall broke his jaw and lock Liaki Moli injured a knee ligament in weekend club rugby while wing George Moala is banned for his high shot on Highlanders wing Buxton Popoali'i. Waisake Naholo is likely to get Moala's role.
Faumuina has torn his calf muscle and with forecasts about his return as long as 14 weeks, the Blues have decided to replace him rather than risk a recurrence if they pushed his recovery.
Those dramas were balanced by the side's 29-18 victory against the Highlanders when former skipper Keven Mealamu returned from his sabbatical and halfback Piri Weepu hinted at his top form.
"He's heading that way. He was a month behind in his training but is match fit now and ready to play his best," coach John Kirwan said.
Others like midfield back Jackson Willison had come in and done a fine job on defence with 18 tackles while his communication was a huge asset.
There were set piece issues to sort out but Mealamu's experience would help as it had against the Highlanders. "He came on at a critical moment and we got out of a situation where we were under the pump about a penalty try," Kirwan said.
The Blues' aim was a repeat success on Saturday at Eden Park before a rest for their second bye.
"We need to go to our break with two wins out of three in this little patch, so we can stay on the others' coat tails," Kirwan said.
Victory against the Highlanders had steadied their self-esteem. They started poorly but picked it up and needed more of that rhythm against the Hurricanes. "They play closer to our style than anyone else and enjoy running from most parts of the field. Their win against the Waratahs was a great result. They are such a threat if they get any turnovers and if you relax on defence they will hurt you," Kirwan said.
The 'Canes had an arsenal of attacking threats with men like Julian Savea, captain Conrad Smith and Andre Taylor and had shown they could compete up front even with a number of players out injured.
Emotional debut for Savea family
It was hard to tell which Savea brother was better as the Hurricanes picked apart the Waratahs 41-29 at the Cake Tin.
Julian scored two of the Hurricanes four tries in the bonus-point victory, while debutant flanker Ardie proved the hype around him is justified with an impressive first-up display at this level. His support play was impressive, his work-rate was immense and Hurricanes coach Mark Hammett said it was a top display from the young tyro.
"They're a special family," Hammett said. "Julian presented Ardie with his jersey today before the game so it was an emotional, proud moment."
-Daniel Richardson