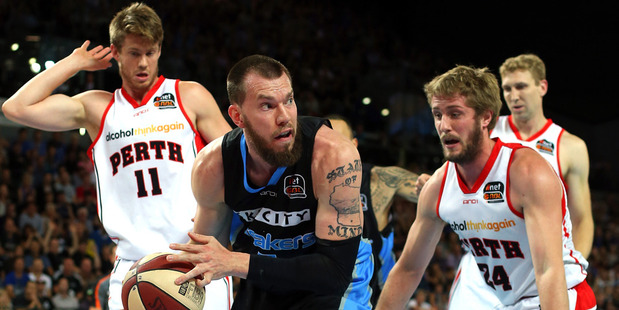 Breakers 79
Perth 67
Just one night of work separates the Breakers from their dynasty dream after the defending champions opened their grand final series against Perth in dominating style.
This afternoon's 79-67 victory at Vector Arena means the Breakers are now 40 minutes away from becoming just the second side to win three straight Australian NBL championships.
The great rivals will now travel 5000km for Friday night's second game at Perth Arena, and the Breakers will be well aware the tough task which awaits if they wish to prevent the series from returning to Auckland for a decider.
The Breakers have won only three of 17 games in Perth, while the Wildcats are currently riding a 14-game win streak at their 12,000-seat home court.
"We've been here before,'' coach Andrej Lemanis said. ``Last year [in the grand final] we went there and lost game two, so we know what it's about. We're not getting too far ahead of ourselves.
"We've got a great group that understands what winning is about. Tonight was one part of the journey and I think we're very well aware of that. We're going to go to Perth and it's going to be another hell of a game.''
The Breakers will head out west hoping to end Perth's season for the third straight year, but the Wildcats will be confident of sending the series back to Auckland. They beat the Breakers twice at home this season by a combined 40 points, prompting Lemanis and his team to opt to travel a day earlier than usual.
"In the past we've travelled the day before [the game]. It's no secret we didn't play well there in the two games, so we're trying something different and we'll see what happens.''
If events proceed similarly to game one, the champagne will eventually flow in the visiting locker room. The Breakers owned all but the first five minutes of the series' opening game as they made a mockery of their woes against the Wildcats this season.
Daryl Corletto led the Breakers with 19 and drained five invaluable points as Perth threatened to mount a late salvo. Mika Vukona showed typical playoff intensity with a double-double of 10 points and 10 rebounds, while the retiring Dillon Boucher fouled out late in what could be his last game in New Zealand.
With the Breakers shooting 46 per cent from the floor compared to Perth's 28 per cent - and the Wildcats managing an appalling six of 34 from beyond the arc - the winning margin could have been even more comfortable.
"You cannot win a game when you shoot as poorly as that,'' Perth coach Rob Beveridge said. ``To only lose by 12 is pretty amazing. I thought it probably should've been a lot more than that considering the way we did shoot the ball.''
Beveridge also thought the Breakers - who edged the all-important rebounding battle 38-35 - out-fought his side and came up trumps in the decisive effort areas.
''[The players] were hurting in the changing room afterwards. They had words with each other and we're challenging each other - and I think that's the beauty of our group. There's no doubt they'll come out [in game two] and have a better crack than tonight.''
Lemanis, too, expected better from the Wildcats on Friday night, but he warned his side were ready to make the necessary adjustments to counter the most successful team in ANBL history.
"It's about ensuring when you come out in game two with a 1-0 lead you come out with the right mindset,'' he said. ``Whenever you play someone who's facing elimination, there's a natural desperation and urgency that comes with that.
"It's important we come out and understand the urgency we need to play with to give ourselves a chance to get over the line.''
Breakers 79 (Corletto 19, Jackson 14, Vukona 10)
Perth 67 (Lisch 19, Redhage 17, Knight 13)
HT: 44-35
- APNZ