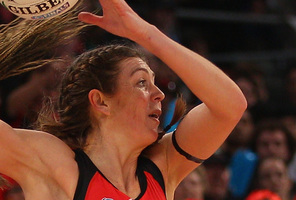 Irene van Dyk has unleashed a stinging attack on the aggressive defensive tactics employed by the West Coast Fever after her side's 14-game winning streak came to an end in Perth.
After copping a battering under the goal by Fever defenders Eboni Beckford-Chambers and Josie Janz, van Dyk came out swinging herself in the post-match interview, claiming the pair "got away with murder".
It has become a rather tiresome scenario: the Kiwi teams complaining about the physicality of the Australian sides after a loss. But this is the first time the usually unflappable van Dyk, who is always the target of opposition defences, has spoken out about rough treatment.
"I've been playing netball for a very long time, and I can honestly say I have never come across a defensive pair that are as physical and get away with murder," the 40-year-old super shooter said after the match.
"There's a fine line between playing with skill and coming out and being dirty, and I think they crossed the line."
Van Dyk's comments are certain to kick off round two of the debate over physicality in the transtasman league following Pulse shooter Donna Wilkins' angry outburst last week after she was felled by cynical elbow in the back from Firebirds' defender Laura Geitz.
Copping close attention from the defence, van Dyk was unable to find any room to move in the shooting circle, and was restricted to just 15 goals in 60 minutes of netball.
With their key scoring weapon looking hassled and harried and making unusual mistakes, the Magic attack became hesitant and were unable to get any flow through the court. Losing goal attack Jess Waitapu to a rib injury late in the first quarter didn't help the Magic's cause, with her replacement Ellen Halpenny struggling to settle into her rhythm.
While the Magic's movement on attack looked slow and laboured, the Fever looked effortless moving the ball through the court.
Eager to prove their 80-53 demolition of the Mystics last weekend was no fluke, the clinical and composed Fever attack line made the most of every turnover, easily finding their 1.93m shooting machine Caitlin Bassett under the goal.
Trailing by 14 goals heading into the final period, a 20-12 final quarter from the Magic brought the scoreline back to a more respectable deficit, but in reality the Fever looked in control for all but the opening six minutes of the match.
It was the Magic's first loss to the Fever in six seasons, having recorded two of their rare victories on Australian soil in Perth. The Waikato-Bay of Plenty side now have a week off to mull over the defeat - their first since round four in 2012 - as the head into a bye week.