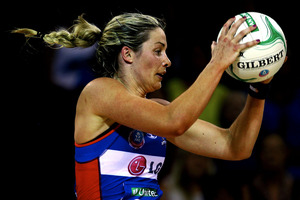 Queensland Firebirds captain Laura Geitz has found an ally in enemy territory after being criticised for roughhouse tactics by New Zealand opponents.
Geitz and Australia Netball Diamonds team-mate Julie Corletto will be rivals today in the Firebirds' ANZ Championship clash with the Northern Mystics in Auckland. But the Mystics' Corletto has leapt to Geitz's defence and urged the Auckland crowd to give the Queenslander a fair go after her run-in with former Silver Fern Donna Wilkins last week in Wellington.
Geitz was booed by the home crowd and later accused by Central Pulse coach Robyn Broughton of landing a cheap shot on Kiwi great Wilkins in the Firebirds' two-goal win. A simmering Wilkins exchanged words with the Queensland defender after the game but the incident seemed little more than a body check between two opponents fighting for space beneath the post.
"I actually thought it was great," said former Melbourne Vixen Corletto. "Wilkins gave her the first [bump] and Geitzy just gave it back. I don't think she'll get booed over here.
I certainly hope not."
A parochial Auckland crowd is just one hurdle the Firebirds must clear to notch their third straight win of the season. Geitz and her defensive partner Demelza McCloud face two of New Zealand's most lethal shooters, Cathrine Latu and Maria Tutaia. In-form vice-captain Natalie Medhurst will stand against Corletto, one of few defenders to have subdued the dynamic goal attack since her move to Brisbane in 2010.
Corletto and former Vixens team-mate Bianca Chatfield restricted Medhurst to just 13 goals from 21 shots in round one last season.
"I enjoy playing on Nat. It's always a challenge," Corletto said.
• Meanwhile, the Southern Steel slipped back to earth after the heights of last week, losing 60-54 against the Adelaide Thunderbirds in Invercargill yesterday. The Steel shared bottom place in last season's ANZ Championship with the Canterbury Tactix, but last week broke an 11-match losing run.
The hosts held a five-goal lead at the first break, but the Thunderbirds came roaring back with a dominant second quarter in which they restricted the Steel to just eight goals. Jhaniele Fowler, who last week broke the competition record with 65 goals, again led her side but the Jamaican's 41 goals from 45 attempts couldn't prevent defeat.