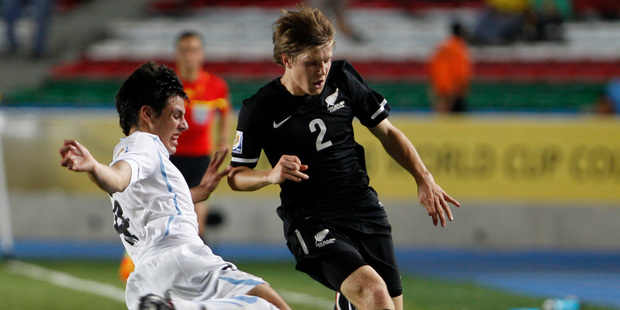 A Junior All Whites side could be included in the ASB Premiership from next season, as New Zealand Football looks for the best way to prepare for the 2015 Fifa Under-20 World Cup.
As the global showpiece is to be held in New Zealand, the idea of keeping the team together and playing weekly is seen as the best way to build a strong side.
All relevant stakeholders have found merit with the concept but the NZF board will still have to approve the proposal, with the likely cost of $150,000-$200,000 a season seen as the main stumbling block.
Details such as the home venue have not yet been finalised but the team would likely be based at North Harbour Stadium.
The proposal is not unprecedented - a national under-17 side played in the Northern Conference of this season's ASB Youth League - but will carry some concerns.
ASB Premiership clubs raised several issues. There were concerns that it could devalue the competition and might distort overall results and there was uncertainty over O-League representation; what would happen if the junior side finished in the top two of the ASB Premiership?
Despite such concerns, it is an innovative and necessary idea. The performance of a host nation at any football World Cup is the single biggest success factor of the tournament. It is vital New Zealand progress into the knockout stages in 2015; progressing to the quarter-finals would be a massive fillip.
New Zealand have never made it out of the group phase at an Under-20 World Cup. They didn't qualify between 1979 and 2005 and lost all three matches (0-2 vs Portugal, 0-1 vs Gambia and 1-2 vs Mexico) in their first attempt in 2007 in Canada.
They missed qualifying in 2009 (knocked out by New Caledonia) but gave a creditable performance in 2011, drawing with Cameroon and Uruguay (both 1-1) before a narrow 1-0 loss to Portugal saw them miss the last 16 by one point.
They qualified for this year's edition in Turkey, where they will face Uzbekistan, Uruguay and Croatia. As a measure of the strength of the game at under-20 level, heavyweights such as Argentina, Brazil, Italy and Germany failed to qualify for this year's tournament.
If the under-20s join the eight-team league, it is expected that either another side would be added or an existing club cut to keep an even number and avoid the need for a weekly bye.
The favourites for inclusion appear to be Nelson, Wairarapa or a South Auckland side, while Manawatu and Waikato must be under the microscope among the incumbents, given recent poor performances.
Nelson were given a licence for the most recent ASB Youth League and the Falcons proved a great success. Their average crowds topped 1000 - more than any of the ASB Premiership teams - and recorded two wins and three draws from their eight matches.
The South Auckland bid, which would be based at Mangere's Centre Park, would also attract good crowds, given their association with the local Fijian Indian community. They would add four more local derbies each year, as well as being in close proximity to Waikato FC.
Whether a third Auckland side would dilute the strength of existing superpowers Waitakere United and Auckland City (and by proxy their OFC Champions League prospects) is a moot point. But the fact the confederation competition is now staged after the ASB Premiership means teams could bolster their squads before it.
Wairarapa United won the Chatham Cup in 2011 and are believed to have a sound bid, both on and off the field.
An expansion to 10 teams would be welcomed in some quarters but would be a gamble. Australia, with five times the population and a much more entrenched football culture, has struggled to maintain a competitive A-League with around 10 teams in the past few years.