The top Kiwi teams in Super Rugby don't have to rely solely on first-choice players to win tough games, writes Gregor Paul.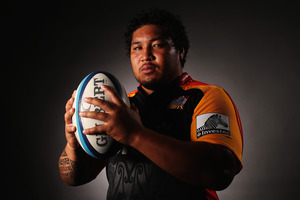 It's only early April, yet a picture is emerging of the New Zealand conference being a two-team race - with the late-season clashes between the Crusaders and Chiefs likely to determine first and second place.
Those games - in rounds 15 and 19 - will probably do more; they will most likely determine which of the two heavyweights takes home advantage into the play-offs.
Predictions are always dangerous but it is hard to see past these two; one will win the title, the other will come close. As Blues coach John Kirwan said: "The Chiefs are the best football team in the competition. They strangled us and they are very good at it."
Last weekend illustrated why the Chiefs and Crusaders are beginning to pull away - both won tough games without significant numbers of first choice players. Super Rugby has ceased to be a sprint and big names alone can't carry a side to the title. It's not like Super 12, when it was all about who had the best starting XV. No one really worried back then about the second tier in the squad - they were maybe given a run against the bottom side but other than that, barely used.
The Chiefs and Crusaders have best adapted to the new mindset that the second tier are critical. They believe the back-up has to be highly capable, as the longer season makes injuries and fatigue inevitable. The back-up is going to be used, and often in crucial games.
It says everything about the calibre of the Crusaders that they were able to win in Cape Town with their third-choice first-five and second-choice halfback. They were also without Kieran Read, Richie McCaw, Owen Franks (he limped off early) and Israel Dagg. It was a victory that shattered this age-old notion that one franchise hoarding a log-jam of players is not to be encouraged.
That may once have been true but not now. The likes of Tyler Bleyendaal, Willi Heinz, Tom Marshall and Luke Whitelock can be confident that, despite the world class performers ahead of them at the Crusaders, they will have an opportunity to showcase their talents and feel they are making a meaningful contribution.
It's the same at the Chiefs, where they made a handful of voluntary changes against the Blues and cruised home without drama. They lost aspiring All Black Ben Afeaki and were able to replace him with another, Ben Tameifuna. They could inject Sam Cane off the bench when the game was virtually theirs and it would seem competition is so intense at lock that captain Craig Clarke can't be certain of his spot.
They Chiefs could swap out Bundee Aki and Richard Kahui in their midfield and not lose anything by bringing in Andrew Horrell and Tim Nanai-Williams. They have reached their first bye with the equivalent of seven wins from seven games and are expecting to welcome back Mo Schwalger and possibly Robbie Robinson from injury.
"We are pretty fortunate to have some depth in that area," Chiefs coach Dave Rennie said of his front-row stocks. Of Tameifuna in particular: "He's in a lot better nick than he was this time last year and, with Ben Afeaki getting injured, he's going to be really important to us. We need to be at our best at the business end of the competition and I think we're building."
Building and peaking are critical and the Crusaders and Chiefs have the best chance of doing both as they are able to manage the workloads of key players while still winning.
In comparison, the Blues made several changes to play the Bulls and not only lost but played poorly. The gap between their best players and second tier was obvious. Angus Ta'avao is some way behind Charlie Faumuina. Baden Kerr at first-five is not yet operating as consistently as Chris Noakes and wing Waisake Naholo struggled to deal with the high ball and not-so-high ball.
The Blues don't have the depth to rotate effectively. That has to be their goal over the next two seasons - build a squad of 30 genuine Super Rugby players.