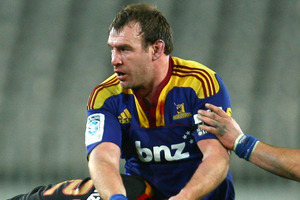 Last year, the All Blacks had the short term covered at hooker. Their worry was longer term.
This year, it's not obvious whether they have either consideration under control as Andrew Hore is being sucked under by the drowning Highlanders, Keven Mealamu hasn't been sighted and none of the emerging generation appear in a hurry to emerge.
Hooker is shaping as the most pressing problem the All Blacks will face in 2013. It is a position of massive uncertainty in terms of forecasting a World Cup pecking order.
The short-term picture has become a little cloudy as well - eight weeks into the season and there hasn't been a stand-out hooker.
What becomes clearer each week is that while New Zealand has plenty of good hookers, none yet convince they are more than that.
What will be vexing All Black coach Steve Hansen is he knows that, without alternatives, he will have to continue to rely on Hore and Mealamu.
At 34, neither is likely going to find anything extra; they won't get faster nor more dynamic and their longevity is dependent on them preserving what they have.
The danger of being overly reliant on two veterans is that, despite their indisputably impressive histories, they are at an age when form and fitness are volatile, as Hore has shown in his scratchy offerings so far this year.
His lack of form would be easier to dismiss were it not for the fact that towards the end of last year, there were growing signs he and Mealamu were losing their grip on the top echelon of international hookers.
Both were solid, certainly better than any other hookers in New Zealand, but neither offered the same dynamic contribution as the likes of Adriaan Strauss, Tom Youngs or Tatafu Polota-Nau.
Hansen's plan has been simple: As he said late last year, he would like both his veterans to commit to making the 2015 World Cup and then let nature take its course, so to speak.
"That is the 64 million dollar question," he said of whether Hore and Mealamu could make the next tournament.
"We really need to just concentrate on the here and now. That will become obvious in time and hopefully both of them will strive to do that and then we as selectors will have to make a decision."
The All Blacks will be able to put a sticking plaster on to get through the June series - relying on Hore and Mealamu.
They have the respective experience, regardless of their Super Rugby form, to be able to front against the French, hit their lineout targets, squeeze the scrums and get about the park.
Hore showed in 2011 that he can scrub up for test duty on the back of not much. He was dumped by the Hurricanes that year, regularly taken off early despite being captain and failing to have any impact.
The All Blacks got him fit, restored his pride and dented confidence and had him back to somewhere near his best by the World Cup.
Mealamu's 2012 ran along similar lines - sporadically injured, his form and confidence faltered as part of the Blues' disastrous campaign and the All Blacks had to rebuild him.
But what will the All Blacks do after June? It may be a case of giving Dane Coles, the best of the emerging crew, an extended run throughout the Rugby Championship and hoping he learns quickly, developing through the experience.
Coles impressed the All Black coaches on tour last year - both with his attitude and performances. The option will be there to rotate the veterans and work with one of Hore or Mealamu and Coles.
Potentially that could see Hore skip the Rugby Championship and Mealamu miss the end of season tour - something, anyway, to reduce the workload of the older men while giving Coles ample opportunity to play.
The harder part of the long term planning will be identifying a second younger option - someone who could develop strongly between now and the World Cup.
The ideal scenario would be to reach 2015 with one veteran still commanding a place, a relatively experienced and established younger force in Coles and then someone younger again - a dynamic, emerging player with the hunger and impact to make a difference.
There are plenty aspiring to fulfil that last brief: Codie Taylor, Ben Funnell, Quentin MacDonald and Brayden Mitchell.
But the three who may develop most are Rhys Marshall at the Chiefs, Nathan Harris - who was ahead of Marshall in last year's New Zealand Under-20 set-up - and Liam Coltman at the Highlanders.
Marshall and Coltman have brought plenty in their cameo appearances to date and Harris is seen in much the same light. Potential, though, is all well and good and Hansen is only going to be content when there is definitive evidence that it's being converted.