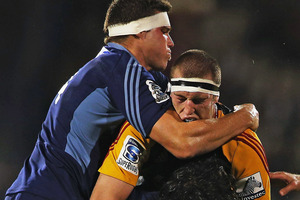 It was with minimal fanfare that the New Zealand Rugby Union announced they had retained Brodie Retallick through to the next World Cup.
Strange that it came across as entirely run of the mill when the 21-year-old lock, by 2015, will rank alongside the likes of Richie McCaw, Dan Carter and Kieran Read in terms of value to the All Blacks.
With Anthony Boric off to Japan and Ali Williams pushing into his mid-30s, the All Blacks don't have particular depth at lock.
What they do have in Retallick, Sam Whitelock and Luke Romano is three good options and, in the former, a man who could become the most commanding second row presence in the world game.
Last year, Whitelock was probably the No1, the other two competing to be his partner. By 2015, even by the end of this year, Retallick is likely to take that No1 spot - to be the grinding, driving force the All Blacks can't be without in their engine room.
The more he plays, the more Retallick looks capable of becoming a world-class talent, of being the same kind of aggressive, crunching presence Brad Thorn was at the last tournament.
"We had the All Black selectors here [with the Chiefs] for a day and we all agreed that with Brodie, we have got something special," says Chiefs forwards coach Tom Coventry, who has been instrumental in converting Retallick from Canterbury reject to All Black. "He has the great big diesel engine that enables him to deliver an incredible work rate and he has the desire to not just be an All Black, but to be a great All Black.
"I think we have a kid who can do just that."
Having apparently shot from nowhere to win 13 test caps last year, there was always a danger Retallick would regress in 2013; struggle to build his game or have the same impact without the element of surprise. It so often happens, as Aaron Smith is proving. But not Retallick.
His early-season form alludes to him being capable of becoming the great All Black he wants to be. The core of his game remains cleaning out, scrummaging grunt and tackling but this year, there are signs of significant add-ons.
"Brodie has already shown some big improvements," says Coventry. "He is staying on his feet for longer, he is starting to look for offloads and he has taken control of the lineouts in the absence of Clarkey [captain Craig Clarke]. We had a few problems last year in the lineout when Craig wasn't available and now Brodie is calling those - stepping up and taking responsibility."
There have been elevated excitement levels about young locks in the past, none of whom have proven to be quite what they were first billed as. Jason Eaton emerged from Taranaki in 2005 but never built on the promise he showed on debut. Isaac Ross was a favourite in 2009 but he couldn't find the same passion for the tight chores as he could the loose, and Bryn Evans, talked about as the future of modern locks, failed to make any impression at all.
Retallick is different, though. The excitement around him is built on strong foundations. Retallick plays like a lock; he wants to be a lock. Physically, he is equipped with not only that big diesel engine, but a basic frame that is 2.03m and easily capable of holding 118kg.
It's his mental discipline and desire that sets him apart, however. Not only does he want to leave that footprint in history, he knows he has to impose himself each time he plays to achieve that. There is an obligation for locks to be natural enforcers - the hard men of the forward pack. Lose an inch in the collision and lose the game. Blink and the other lot will see it, fancy they can get on the front foot without much bother. Retallick is not one to hide from the realities of his job.
"He understands his role so well," says Coventry. "We [Chiefs] have a lot of confidence in his ability. He is hard-working, conscientious and gets through what is required at training. He doesn't shirk the tough stuff.
"We put the players through a bit at training and it can get pretty physical at times - a bit testy. But Brodie stands his ground. He won't back down if someone has annoyed him and is going toe-to-toe.
"He is a real competitor. He wants to be better than his opposite man every time. He wants to work harder than him. There have been players in the past who haven't been physical consistently but that's not Brodie - he has that abrasiveness."