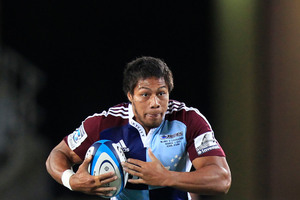 Blues outside back George Moala has been suspended for one week for a dangerous tackle on Highlanders wing Buxton Popoali'i during last night's Super Rugby outing at Eden Park in Auckland.
Moala pleaded guilty via teleconference today to a breach of Law 10.4 (e) and has been ruled out of all rugby for one week.
Sanzar duty judicial officer Nicholas Davidson QC offered the following on the incident that resulted in Moala receiving a yellow card during the game, which the Blues won 29-18.
"The DJO considered there was no intentional foul play and that all indications were of an orthodox tackle until Popoali'i reached forward and dropped his body position that lead to contact above the shoulders and with considerable force," Davidson said.
"Concussion was reported by the medical officer and the effects are not yet certain. Considerable remorse and reflection were shown by Moala directly to Popoali'i after the match and at the teleconference. He is young and just making his way in the first class game and has a clean record.
The DJO records that the tackler has the responsibility to make the tackle cleanly and cannot assume the ball carrier, here catcher, will take or carry the ball as coached.
"The DJO also expressed real concern at the incidents involving the head and neck region this season and while different in kind the message must now be patently clear that the dangers in high contact must now reflect in deterrent sanctions."
The Blues host the Hurricanes in Auckland next Saturday night.
- APNZ