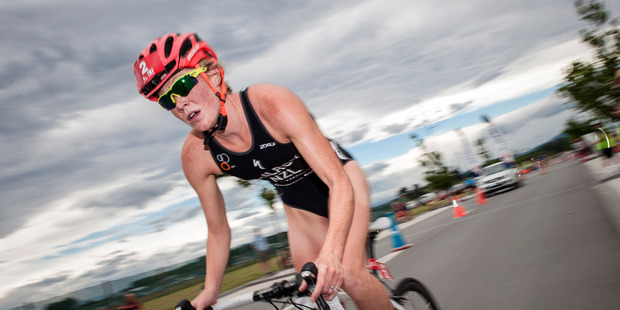 German triathlete Anne Haug has broken away on the final lap to win the women's world championship series race in Auckland in a time of two hours 8m 20s. It completes a replica effort from Haug; she won the ITU grand final event on the same course last year.
A lead bunch of 14 athletes held together for much of the bike leg after Japan's Yuka Sato led out the swim. Four athletes broke away during the run with Haug, Australian Felicity Abram, Dutchwoman Maaike Caelers and New Zealand's Kate McIlroy testing each others legs over the 10km.
Caelers finished 3s back in second, Abram was 13s back in third and McIlroy 23s adrift in fourth.
Fellow New Zealander Nicky Samuels finished fifth. She led into the transition between the bike and run legs with McIlroy a second back. Samuels' omission from the Triathlon New Zealand high performance squad looked like it provided the necessary motivation for a strong performance. The result may force TNZ to reassess their investment decision ahead of further international events.
Andrea Hewitt was more than a minute behind the lead group and finished three minutes 20s behind Haug in 15th. She was sporting severe bruising on her upper left thigh which may explain a sub-par performance from the world's third-ranked woman.
Earlier Spanish triathlete Javier Gomez took out the men's race in one hour 55m 51s.
The London Olympic silver medallist has raced and won four times in New Zealand, starting with the under-23 world championship title at Queenstown in 2003.
Gomez triumphed after initially duelling with compatriot Mario Mola on the first lap of the run.
The first prize for men and women is US$20,000.
Mola was second, 12s back with Portugal's Joao Silva 31s off Gomez in third.
The hilly terrain hardly proved a deterrent for athletes despite most being more familiar with the flat courses of Europe. There was less than 20 seconds across 27 athletes as they made the transition to the run.
Tony Dodds was the best performed New Zealander in seventh. Compatriots Clark Ellice and Ryan Sissons were 11th and 14th respectively. Dodds stuck with the lead group until the run. He was third on the first lap before slipping back after completing a 15s transitional penalty over what were understood to be some misplaced goggles after the swim.
- APNZ